THE GUN ROOM


See full-sized image.
Status:
In Stock as of January 19, 2020
Category: Rifles
Brand: Daniel Defense
Keywords: 300 Blackout, 300 BO, Ambush, Daniel, Defense, Highlander, Kryptek
Manufacturer SKU: DA-02-110-01216
Caliber: 300 Blackout
Number of rounds: 30+1
Barrel length: 16"
Weight: 6.5 lbs.
Features: Cerakote Kryptek Highlander. Geiselle Trigger.
Recommended Scope: Trijicon MRO or Aimpoint T2
Condition: New in Hard Case!
Price: Too low to post! Please call 281-384-1482

Contact us about this product.
The Daniel Defense M4 Ambush 300 Blackout In the KRYPTEK HIGHLANDER pattern has all the same modularity and functionality as their popular V11 Carbine, but was built to accommodate the versatile .300 Blackout cartridge. This caliber offers projectiles with increased bullet weight which substantially increases its effectiveness on target all while reducing felt recoil to the operator. It features a free-floating Cold Hammer Forged, 16" S2W barrel with 1:8 twist and carbine-length gas system—tuned to reliably cycle a wide range of 300 Blackout cartridges. It features the M-LOK attachment system integrated into Daniel Defense SLiM RAIL 15.0, which offers incredible weight savings as well as superior cooling, ergonomics, and modularity while maintaining the strength and durability expected from a Daniel Defense product. The longer 15" rail features an uninterrupted Picatinny rail on top and M-LOK attachments at the 3, 6, and 9 o'clock positions, ensuring plenty of real estate for optics and accessories. It also allows maximum sight radius, for more accurate shooting with rail mounted iron sights, and provides operators with the option to extend the support hand out closer to the muzzle in order to drive the gun more precisely and help prevent over-travel when transitioning between multiple targets. Daniel Defense's rugged Buttstock and Pistol Grip provide the comfort and ergonomics needed for optimal control.
The M4 Ambush 300 is designed to be shot suppressed and un-suppressed utilizing all types of supersonic and subsonic ammunition.
MATERIALS & CONSTRUCTION
LOWER RECEIVER: Mil-Spec with Enhanced Flared Magazine Well and Rear Receiver QD Swivel Attachment Point. CNC Machined of 7075-T6 Aluminum
UPPER RECEIVER: Mil-Spec with Indexing Marks and M4 Feed Ramps. CNC Machined of 7075-T6 Aluminum
BARREL: Chrome Moly Vanadium Steel, Cold Hammer Forged, 1:8 twist, 16″ S2W Profile, Chrome Lined, and Mil-Spec Heavy Phosphate Coated
GAS SYSTEM: Pinned Low Profile Gas Block CNC Machined of 4140 hardened steel and Mil-Spec Heavy Phosphate Coating, Carbine length, Direct Impingement
TRIGGER: Geissele SSA Two Stage
MUZZLE DEVICE: Thread Protector
BOLT CARRIER GROUP: M16 Profile, Chrome Lined, Properly Staked Gas Key
BUFFER: H Buffer
SIGHTS: Sold Separately
HANDGUARD: Daniel Defense M-LOK SLiM Rail 15.0, CNC Machined of 6061-T6 Aluminum
RECEIVER EXTENSION: 6-Position Mil-Spec 7075-T6 Aluminum
BUTTSTOCK: Daniel Defense Buttstock, Glass Filled Polymer with Soft Touch Overmolding
PISTOL GRIP: Daniel Defense Pistol Grip, Glass Filled Polymer with Soft Touch Overmolding
FINISH: Mil Spec + Cerakote KRYPTEK HIGHLANDER
PLEASE CLICK PICTURES FOR MORE RESOLUTION!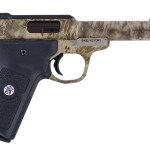 See full-sized image.
Status:
In Stock as of January 19, 2020
Category: Handguns
Brand: Smith & Wesson
Keywords: 22 LR, Highlander, Kryptek, Smith, Victory, Wesson
Manufacturer SKU: 10297
Caliber: 22 Long Rifle
Number of rounds: 10+1
Barrel length: 5.5"
Weight: 36 oz.
Features: Kryptek Highlander Finish. Fiber Optic Sights. Threaded.
Recommended Scope: Aimpoin T-2
Condition: New in Box!
Price: $419 Credit, $411 Cash. $30 Shipping by UPS

Contact us about this product.
New for 2016! Smith and Wesson worked hard or providing accuracy, reliability and easy to maintain on this new 22 Long Rifle that is getting outstanding reviews. Features a 5.5 inches barrel, a steel reinforced polymer thumb safety, picatinny-style rail, fiber optic front sight, 2 ten round magazines, and a stainless steel frame. Amazing Kryptek Highlander finish!