THE GUN ROOM

See full-sized image.
Status:
In Stock as of August 22, 2017
Category: Handguns
Brand: Nighthawk Custom - Korth
Keywords: 10 mm, Chrome, Hard Chrome, Heinie, Long Slide, Nighthawk
Manufacturer SKU: Custom Build
Caliber: 10 mm
Number of rounds: 8+1
Barrel length: 6"
Weight: 45.7 oz.
Features: All Stainless with Hard Chome Finish. Ambi. Rail. Ext. Well
Condition: New in Nighthawk Soft Case!
Price: $4,725, Free UPS 2nd Day Air Shipping!

Contact us about this product.
BACK IN STOCK – CUSTOM BUILT! A good example of the flexibility and capabilities of Nighthawk Custom. This is a custom design project we conceived with the help of Joe Lehr in Nighthawk. The problem to solve was "If I am going to own a single 10mm for both target and hunting what would be the best configuration sparing no cost?" We believe this gun, that we nicknamed "10Zilla" is the answer: 
From the hog infested mesquite brushes of Texas to the Alaskan trails sometimes you need a powerful sidearm, impervious to elements, that can end a confrontation in one shot. Made to The Scopesmith specs by Nighthawk Custom this Nighthawk Heinie Long Slide (6in) 10 mm has it all. All Stainless Steel and Finished in Hard Chrome, it has rust and scratch resistance far superior than stainless steel alone. It has ambidextrous safety (maybe that bear just mauled your right arm) and tactical light rail (maybe for a night hog search). An extended beveled Falcon-style magazine well makes that blind reload real easy.The 6 inches barrel maximizes the power of the hard knocking 10mm cartridge and improves your accuracy with its higher sight ratio. On the off-times this beauty doubles as a tack-driver range enjoyment jewel! Other features: Adjustable Night Sights. Matching two-tone Alumagrips. Two magazines.
PLEASE CLICK PICTURES FOR MORE RESOLUTION! – NOTICE THE TEST GROUP!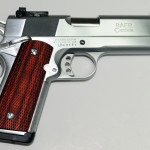 See full-sized image.
Status:
In Stock as of August 22, 2017
Category: Handguns
Brand: Les Baer Custom
Keywords: 45 ACP, Baer, GT, Hard Chrome, Les, Les Baer, Monolith, Stinger
Manufacturer SKU: 2314GTMONOCH (Manufacturer Link)
Caliber: 45 ACP
Number of rounds: 7+1
Barrel length: 4.25"
Weight: 37.5 oz.
Features: Please Read Specs!
Condition: New in Box!
Price: $3,145 Free UPS 2nd Day Air Shipping!

Contact us about this product.
Finally here after a 17-month wait! Les Baer fans asked for a "small, efficient, rugged and no-compromises" pistol and that's what they have given us! The new GT Monolith Stinger Hard Chrome model is designed specifically for easy and trouble-free carry with a shorter length grip frame (Officer's style) and Les Baer Commanche top end. The new GT Monolith Stinger is perhaps the most extreme high performance carry gun ever offered by Les Baer custom. It combines the best features of Les Baer's compact Stinger with the beefy look and slightly heavier muzzle weight of Les' revolutionary Monolith. The Stinger frame is Officer-size so it's perfect for concealed carry, but like the Monolith, the dust cover is extra long and it matches the length of the slide. That gives the frame and size a blocky, one-piece appearance, and it adds weight on the front end that reduces muzzle flip. The 4 ¼" slide is also Commanche length which is somewhat smaller than Les Baer standard 5" slide, and the dust cover is round on the bottom like the full size Monolith. This unit's Hard-Chrome finish is several times harder and more scratch and rust resistant that stainless steel. Finally, this gun features the utmost in reliability and accuracy of the special Stinger package that includes a new 7-round stinger stainless magazine.
Features include:
Baer National Match Stinger frame • Baer Commanche slide with rear serrations with Monolith Slide • Hard Chrome Finish • Slide fitted to frame • Baer NM barrel with stainless bushing • Low mount Rolo night sights • Dovetail front sight • Lowered and flared ejection port • Tuned and polished extractor • Baer extended ejector • Baer checkered slide stop • Baer speed trigger with crisp 4 lb pull • Baer deluxe Commander hammer and sear • Baer beavertail grip safety with pad • Flat serrated mainspring housing • Beveled mag well • Polished feed ramp and throated barrel • Baer extended ambi safety • High checkered front strap @ 30 lpi • Edges rounded for tactical carry • Pistol tuned for total reliability • Baer Premium Checkered grips • (3) 7-round premium Stinger magazines.  Caliber: .45 ACP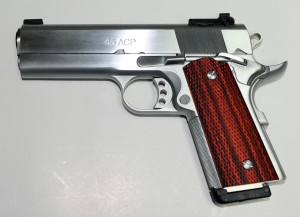 See full-sized image.
Status:
Coming Soon as of August 22, 2017
Arriving 03/31/2016
Category: Handguns
Brand: Les Baer Custom
Keywords: 45 ACP, Hard Chrome, Les Baer, S.R.P., SRP
Manufacturer SKU: SRP2121-C-1.5
Caliber: 45 ACP
Number of rounds: 8+1
Barrel length: 5"
Features: Hard Chrome. Ambi. Night Sights. 3 Magazines
Condition: New In Les Baer Box and Wood/Glass Display Case
Price: $3,195 Free UPS 2nd Day Air Shipping

Contact us about this product.
A 15-MONTH WAIT GUN! Ultimately, everyone who needs to carry a pistol for tactical use or who keeps a pistol for self-defense wants something that's completely reliable, uncannily accurate, powerful enough to deal with any situation, and familiar as an old shoe. That was a tough bill to fill until Les Baer introduced his 1911 S.R.P., an uncompromising single stack performer in 45 ACP. Features include:
Baer HARD CHROME National Match frame many times more resistant to scratches than Stainless Steel • Baer HARD CHROME National Match slide with front and rear serrations • Slide fitted to frame • Baer NM barrel with stainless match bushing • Baer deluxe fixed combat sight • Baer dovetail ramp type front sight • Lowered and flared ejection port • Baer checkered slide stop • Baer extended ejector • Baer tactical style ambi safety • Baer speed trigger • Baer checkered flat mainspring housing • Checkered front strap @ 30 lpi • Fitted and tuned extractor • Beveled mag well • Complete tactical action job • Baer beavertail safety with pad • Baer deluxe Commander hammer and sear • Tritium night sights installed front and rear • Deburred for tactical carry • DuPont® S coating on complete pistol for maximum corrosion resistance • Baer Premium Checkered grips • Tuned for total reliability • Test fired with Federal 230 grain Hydra-Shok ammo and Remington Sabre 230 grain H.P. ammo and guaranteed to shoot 1.5 inch groups at 50 yards • (3) 8-round premium magazines • Special wooden presentation box with glass lid