THE GUN ROOM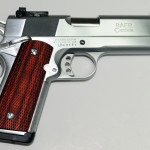 See full-sized image.
Status:
In Stock as of May 22, 2018
Category: Handguns
Brand: Les Baer Custom
Keywords: 45 ACP, Baer, GT, Hard Chrome, Les, Les Baer, Monolith, Stinger
Manufacturer SKU: 2314GTMONOCH (Manufacturer Link)
Caliber: 45 ACP
Number of rounds: 7+1
Barrel length: 4.25"
Weight: 37.5 oz.
Features: Please Read Specs!
Condition: New in Box!
Price: $3,145 Free UPS 2nd Day Air Shipping!

Contact us about this product.
Finally here after a 17-month wait! Les Baer fans asked for a "small, efficient, rugged and no-compromises" pistol and that's what they have given us! The new GT Monolith Stinger Hard Chrome model is designed specifically for easy and trouble-free carry with a shorter length grip frame (Officer's style) and Les Baer Commanche top end. The new GT Monolith Stinger is perhaps the most extreme high performance carry gun ever offered by Les Baer custom. It combines the best features of Les Baer's compact Stinger with the beefy look and slightly heavier muzzle weight of Les' revolutionary Monolith. The Stinger frame is Officer-size so it's perfect for concealed carry, but like the Monolith, the dust cover is extra long and it matches the length of the slide. That gives the frame and size a blocky, one-piece appearance, and it adds weight on the front end that reduces muzzle flip. The 4 ¼" slide is also Commanche length which is somewhat smaller than Les Baer standard 5" slide, and the dust cover is round on the bottom like the full size Monolith. This unit's Hard-Chrome finish is several times harder and more scratch and rust resistant that stainless steel. Finally, this gun features the utmost in reliability and accuracy of the special Stinger package that includes a new 7-round stinger stainless magazine.
Features include:
Baer National Match Stinger frame • Baer Commanche slide with rear serrations with Monolith Slide • Hard Chrome Finish • Slide fitted to frame • Baer NM barrel with stainless bushing • Low mount Rolo night sights • Dovetail front sight • Lowered and flared ejection port • Tuned and polished extractor • Baer extended ejector • Baer checkered slide stop • Baer speed trigger with crisp 4 lb pull • Baer deluxe Commander hammer and sear • Baer beavertail grip safety with pad • Flat serrated mainspring housing • Beveled mag well • Polished feed ramp and throated barrel • Baer extended ambi safety • High checkered front strap @ 30 lpi • Edges rounded for tactical carry • Pistol tuned for total reliability • Baer Premium Checkered grips • (3) 7-round premium Stinger magazines.  Caliber: .45 ACP