THE GUN ROOM

See full-sized image.
Status:
In Stock as of August 16, 2017
Category: Handguns
Brand: Kel-Tec
Keywords: 22 Magnum, 22 WMR, Grey, Kel-Tec, PMR
Manufacturer SKU: PMR30GRY
Caliber: 22 Magnum
Number of rounds: 30+1
Barrel length: 4.3"
Weight: 13.6 oz.
Features: Fiber Optics Sight. Tactical Rail. 30 Rounds!
Condition: New in Box
Price: $439 Credit, $430 Cash! $30 Shipping by UPS Air

Contact us about this product.
The PMR-30 is a lightweight, full size pistol (.22WMR). The PMR-30 operates on a unique hybrid blow back/locked-breech system, allowing for the use of a wide variety of ammunition as it seamlessly adjusts depending on the pressure of the cartridge. It uses a flush fit, 30-round double stack Zytel nylon magazine with round count ports. The trigger is a crisp single action with an over travel stop. It has a thumb-activated ambidextrous safety lever. The slide locks back after the last shot and a manual slide lock lever is also provided.  The slide and barrel are 4140 steel, the frame is 7075 aluminum. The grip, slide cover, trigger, mag release, and safety levers are glass reinforced nylon (Zytel). Other features include: dual opposing extractors for reliability, heel magazine release to aid in magazine retention, dovetailed aluminum front sight, Picatinny accessory rail under the barrel, urethane recoil buffer, and captive coaxial recoil springs. It has a fluted barrel for light weight and effective heat 0dissipation. PMR30 disassembles for cleaning by removal of a single pin.

See full-sized image.
Status:
In Stock as of August 16, 2017
Category: Handguns
Brand: FN Herstal
Keywords: 45 ACP, FN, FNH, FNX, Grey, RMR, Tactical, threaded
Manufacturer SKU: 66-100034
Caliber: 45 ACP
Number of rounds: 15+1
Barrel length: 5.3"
Weight: 21.9 oz.
Features: Grey/Blk. Nigh Sights. Threaded Barrel. RMR Bases included.
Recommended Scope: Trijicon RMR
Condition: New In FN Soft Case
Price: $1,139 Credit, $1,116 cash! $30 shipping by UPS

Contact us about this product.
New 2017 Battle Grey Version! Improving on the FNP-45, developed for the U.S. Joint Combat Pistol Program, the FNX-45 Tactical is the latest in technological advancements in handgun engineering, offering .45 ACP performance and a host of unique features that no other handgun can match. This version has a Battle Grey Slide and a checkered polymer frame in Black and has a low-bore axis for reduced felt recoil and enhanced operator control. Two interchangeable backstraps come standard to quickly customize the grip feel. All operating controls are fully ambidextrous for ease of use. The 5.3″ cold hammer-forged, stainless steel barrel has a threaded muzzle to accept sound suppressors compensators and other accessories. The stainless steel slide has high-profile combat night sights and includes two mounting bases to accept multiple styles of optional red-dot electronic sights. Pistol ships with 3 magazines and a fitted Cordura nylon case.
RMR SHOWN ON TOP PICTURE NOT INCLUDED (BASES INCLUDED)
PLEASE CLICK ON PICTURES FOR MORE RESOLUTION


See full-sized image.
Status:
In Stock as of August 16, 2017
Category: Rifles
Brand: Barrett
Keywords: 300 Blackout, Barrett, Direct, Grey, Impingement, Rec7, Tungsten
Manufacturer SKU: 15423 (Manufacturer Link)
Caliber: 300 Blackout
Number of rounds: 30+1
Barrel length: 16"
Weight: 6.2 lbs.
Features: Direct Impingement. Barrett Keymode Rail. Tugsten Grey
Recommended Scope: TJ 300 BO ACOG. Aimpoit T-1/T-2 or MRO
Condition: New in Box
Price: $1,699 Credit, $1,665 Cash! $30 Shipping by UPS

Contact us about this product.
After years of raising the bar on longrange shooting with their 50 caliber, Barrett has now created a next generation AR. They call it the REC7 DI, and, while incredibly light, it carries some truly weighty attributes. A highly customizable direct impingement rifle, the REC7 DI can be adapted to your specific preferences.

What's more, in true Barrett tradition, this rifle is hand-built and intensely precise for accuracy that's truly one of a kind. Shoot it thousands of times, drag it through the mud, submerge it in the water; whatever the case, it's built to be reliable for years.

The REC7 DI is a lightweight, direct impinged operated semi-automatic rifle equipped with a match grade stainless steel barrel, Magpul MOE® furniture, Barrett designed 15" KeyMod handguard, Bravo Company Gunfighter charging handle, muzzle device, and ALG Defense ACT trigger.

The REC7 from Barrett. Shoots holes in every excuse.
This is the Model 15423 in the amazing 300 Blackout! 1in 8 twist. Cerakote Tungsten Grey Color!

See full-sized image.
Status:
In Stock as of August 16, 2017
Category: Rifles
Brand: Cobalt Kinetics
Keywords: 223 Rem, 556 NATO, B.A.M.F., Blue, Grey, Kinetics, Replica, Team
Manufacturer SKU: EBS16
Caliber: 223 Rem and 556 NATO
Number of rounds: 30+1
Barrel length: 16"
Weight: 7.6 lbs.
Features: Please read description!
Recommended Scope: Nightforce 2.5-10x42
Condition: New in Cobalt Kinetics Case!
Price: Please Call for Price!

Contact us about this product.
We are very excited of carrying the new Cobalt Kinetics high performance AR-15s that are taking the market by storm. We usually refer to customers about our LWRCs as "The Cadillac" of the ARs and about our H&K as "The Mercedes Benz" amongst AR-15s. Consider Cobalt Kinetics "The Ferrari" of ARs. A combination of striking design and looks with innovation (6 patents pending) and high performance features that makes them the choice gun for 3-Gun competitions or other high performance situation.
This model of the Striking BAMF (Billeted Aluminum Modern Rifle) Is COBALT KINETICS FLAGSHIP PRODUCT and comes in LIGHT GREY AND BLUE Compensator and Buffer Tube. THIS UNIT IS AN EXACT REPLICA OF COBALT KINETICS DEMONSTRATION UNIT that is widely recognized as the best competition AR ever made. Cobalt guns are chambered in what is now named "223 WYLDE" that is a short way of saying that the unit will work perfectly with either 223 Remington or 556 NATO bullets. One of the most noticeable innovations of this rifle is the dual Forward Assist that doubles as an ambidextrous double bolt drops. Hit the double drop from either end and the bolt slams home! This makes for a truly ambidextrous rifle, particularly considering the safety and magazine catch are ambi as well. But probably the feature that the buyer will appreciate the most will be its gold High Performance trigger that is better than anything we tried before. This Team Replica Version adds a new wave of enhancements listed below:
Pro Muzzle Brake
Pro Hand Guard
Patent Pending Performance Buffer System
ATC AR Gold Trigger Straight
Billet Grip Developed by Cobalt Kinetics 3 Gun Team
Caliber: .223 Wylde (223 Rem / 5.56 NATO)
Upper and Lower Receiver:
Precision Machined 7075 Billet-Aluminum
Custom Mated Pairs
Beveled Mag Well
Detachable Trigger Guard
Nickel Boron BCG-Light Weight Bolt Carrier Group
Threaded Pins
Barrel: 16″ Match Grade Barrel 416R Stainless Steel
Adjustable Gas Block
Hand Guard: Precision Machined 7075 Billet -Aluminum
Free Floating M-lok
Cobalt Pro Compensator
Billet Grip Developed by CK 3 Gun Team
Cobalt Kinetics Rifle Stock
Threaded Pins
Controls Ambidextrous:
Charging Handle
Dual Drop Bolt Release
56-Degree Safety Selector
Ambi Mag Release
Extended Odin Mag Release
PLEASE CLICK PICTURE FOR MORE RESOLUTION:


See full-sized image.
Status:
In Stock as of August 16, 2017
Category: Shotguns
Brand: Kel-Tec
Keywords: Grey, Kel-Tec, KSG
Manufacturer SKU: KSG-CK-GRY (Manufacturer Link)
Caliber: 12 Gauge
Number of rounds: 12+1
Barrel length: 18.3"
Weight: 6.9 lbs.
Features: Cerakote Grey Finish. Top and Bottom Tactical Rails.
Recommended Scope: Trijicon SRS01. Aimpoint T-1 or H-1
Condition: New In Box!
Price: $899 credit, $881 cash!

Contact us about this product.
Kel-Tec's KSG is a simple and reliable pump action shotgun able to feed from either the left or right tube, with a manual feed side selector lever located behind the trigger guard. Each tube holds up to 6 shells for a total 12+1 capacity. The pump includes a bottom Picatinny rail for the mounting of a forward grip, light, or a laser, and a top Picatinny sight rail to accept many types of optics or iron sights. The soft rubber butt pad helps to tame recoil. The KSG receiver is made from hardened steel and includes the magazine tubes which have been welded in place. The grip and stock assembly is made of glass reinforced nylon (Zytel) and is easily disassembled by pushing out 2 pins, which store in 2 holes in the grip when removed. Forward and rear sling loops are built in, and a basic sling is included. This version has it metallic components Cerakote on Grey Color for a beautiful high tech look. Recent Manufacture!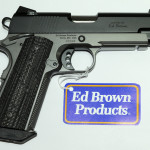 See full-sized image.
Status:
In Stock as of August 16, 2017
Category: Handguns
Brand: Ed Brown Products
Keywords: 45 ACP, Ambi, Brown, Commander, Ed, Ed Brown, Forces, Grey, Special, Stealth
Manufacturer SKU: EDB SF3C-G4G-AM-LR
Caliber: 45 ACP
Number of rounds: 8+1
Barrel length: 4.25"
Weight: 39 oz.
Features: Please read specs - many custom upgrades.
Condition: New In Ed Brown Soft Case!
Price: $3,795 Free UPS 2nd Day Air Shipping!

Contact us about this product.
One of a kind! A limited production model with additional custom specs! Ed Brown Special Forces Commander 45 ACP Stealth Grey – Custom Options – Light Rail – Ambi – 2 Magazines – VZ WALKURE G-10 Grips
Built for pure performance and extreme use, the Special Forces pistol from Ed Brown has everything you need for serious performance. All the engineering, precision manufacturing and hand-fitting the Brown family is famous for is included, and all the tactical features of a true duty pistol are also included. This Commander Size version, finished in the super-resistant Stealth Grey coating an loaded with performance enhancing custom options make it easy to carry all that power with you!
This Limited Production top-of-the-line Special Forces Commander features the following specs:
Special Forces Commander Frame and Slide
45 ACP 8+1
G4 "Stealth Grey" Coating
Tactical Rail
Ambidextrous Safety
Recessed Slide Stop
Flush Barrel Crown
Ball End Mill Cuts
Flattened and Serrated Top Slide
Serrated Back Slide
VZ-Grips WALKURE G-10 Grips
Pistol Bag with Log
Two 8 Round Magazines
39 Ounces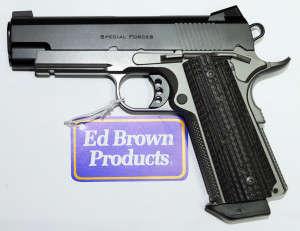 Next »