THE GUN ROOM

See full-sized image.
Status:
In Stock as of December 2, 2021
Category: Rifles
Brand: Ruger
Keywords: 6.5 Creedmoor, Enhanced, Gen 3, Muzzlebrake, Precision, rifle, Ruger
Manufacturer SKU: 18029 (Manufacturer Link)
Caliber: 6.5 Creedmoor
Number of rounds: 10+1
Barrel length: 24"
Weight: 10.6 lbs.
Features: M-LOK, Folding Stock, Adj. Trigger, Rail. Muzzlebrake
Recommended Scope: Swarovski X5i, Nightforce ATACR, Schmidt & Bender PMII
Condition: New In Box
Price: $1,429 Credit, $1,400 Cash. $30 Shipping by UPS

Contact us about this product.
A further refined version of the hottest gun of the last five years in the hottest caliber of the last five years!
Ruger® built the Ruger Precision® from the ground-up, specifically for long-range, tactical shooting. The Gen 3 Precision Rifle comes with a new, free-float M-LOK® handguard that provides greater clearance with large diameter objective lens. The Gen 3 also comes with a muzzle brake, featuring a hybrid port design that reduces recoil by up to 40–60%, and reduces muzzle blast, directing it to each side of the shooter's line of sight. A billet-aluminum bolt shroud also enhances the Gen 3 rifle. The upper receiver and one-piece bolt are precision CNC-machined from pre-hardened 4140 chrome-moly steel to minimize distortion; and a 20-MOA Picatinny rail is secured to the receiver with 4 #8-40 screws. The bolt has 3 lock lugs, resulting in superior strength and a 70º throw. The Precision MSR buttstock attaches to an AR-style buffer tube on a left-folding hinge, and the stock adjusts for length of pull and comb height. The buttstock features QD sling attachment points, a bottom Picatinny rail, and rubber buttpad. The buffer tube accepts any AR-style stock. An extended trigger-reach, AR-style grip, and a 45º reversible safety selector provide ease of operation, and the rifle is compatible with any AR-style grip or selector. The cold hammer-forged 4140 chrome-moly steel, medium-contour barrel has 5R rifling. The barrel nut enables close-tolerance headspacing, and a Marksman Adjustable™ trigger breaks clean to enhance accurate shooting. The Ruger Precision Rifle Gen 3 utilizes a multi-magazine interface that functions with AICS, polymer AR-10, and Gunsite Scout magazines. Includes two 10-round Magpul® PMAG®magazines.
For long-range, tactical shooting
Short-action M-LOK® handguard
Billet-aluminum bolt shroud
Hybrid muzzle brake
AR-style buffer tube on left-folding hinge
Adjustable Precision MSR buttstock
CNC-machined steel upper receiver
Chrome-moly steel barrel
3-lug bolt with 70º throw
Multi-magazine interface
Two 10-round magazines
20-MOA receiver rail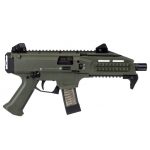 See full-sized image.
Status:
In Stock as of December 2, 2021
Category: Handguns
Brand: CZ - Dan Wesson
Keywords: 9mm, CZ, EVO, Gen 3, ODG, PS1, Scorpion
Manufacturer SKU: 91355 (Manufacturer Link)
Caliber: 9mm
Number of rounds: 20+1
Barrel length: 7.75"
Weight: 5 lbs.
Features: Quad Rail. Sights. Threaded.
Recommended Scope: Trijicon MRO or RMR. Aimpoint T-2 or T-1
Condition: New In Box!
Price: $979 Cash, $959 Cash! $50 Shiping UPS Air

Contact us about this product.
Back in Stock – One Unit! This later generation of the CZ Scorpion sub-gun is a blowback-operated semi-auto in 9mm with a 7.75″ cold hammer-forged barrel. Its muzzle features 1/2×28 threads hidden underneath the factory flash hider, meaning users can fit either 1/2×28 or 18×1 accessories to the muzzle. Equipped with a low-profile sights, its rear sight has four different aperture sizes for everything from close quarters to way out there. The sights ride on an 11″ Picatinny rail perfect for mounting optics. It has a polymer frame with a QD sling swivel pocket integrated into the rear sling attachment point. Simple and reliable, the Scorpion not only has ambidextrous controls, its non-reciprocating charging handle is swappable and trigger reach is adjustable. This ODG model has a 20-round magazine.