THE GUN ROOM

See full-sized image.
Status:
In Stock as of October 18, 2019
Category: Rifles
Brand: IWI
Keywords: 300 Blackout, Bullpup, Discretion. 45 ACP. Threaded, FDE, IWI, Tavor, X95
Manufacturer SKU: XFD16BLK (Manufacturer Link)
Caliber: 300 Blackout
Number of rounds: 30+1
Barrel length: 16.5"
Weight: 7.9 lbs.
Features: Please read description!
Recommended Scope: Trijicon ACOG, Eotech or Aimpoint T2 or PRO
Condition: New In Box!
Price: $1,859 Credit, $1,753 Cash! $30 Shipping by UPS

Contact us about this product.
Want a short 300 Blackout rifle without the annoying paperwork? The new Tavor® X95™ just released in 300 Blackout is the next generation bullpup from IWI US, Inc. Upgrades and enhancements from the original TAVOR® SAR include a new fire control pack with a 5-6 lb. trigger pull, repositioning of the ambidextrous mag release to an AR-15 location, a forearm with Picatinny rails at the 3, 6, and 9 o'clock positions with removable rail covers, relocation of the charging handle closer to your center mass, a modular Tavor style pistol grip that can be swapped out to a standard pistol grip with traditional trigger guard and a smaller, lower profile bolt release button. This gun could also be converted to 556 or 9mm with optional conversion kits.
Caliber: 300 Blackout
Action: Semi-auto, Gas Piston
Operating System: Closed rotating bolt, long gas stroke on piston head
Magazine Type: Polymer NATO STANAG type (AR-15 Compatible)
Magazine Capacity: 30 rounds
Barrel Material: Cold hammer forged, CrMoV, chrome lined
Barrel Length: 16 ½" Threaded (5/8×24) with flash hider.
Overall Length: 26 ⅛"
Weight: 7.9 lbs.
Rifling: Right hand, 6 grooves, 1:7 inch twist
Stock Color: Flat Dark Earth
Stock Type: Reinforced polymer bullpup configuration
Sights: Folding front sight (blade) with Tritium insert and rear sight (aperture)
Optional Equipment (Sold separately): 9mm and .556 NATO Conversion Kits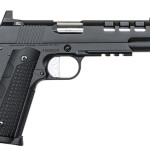 See full-sized image.
Status:
In Stock as of October 18, 2019
Category: Handguns
Brand: CZ - Dan Wesson
Keywords: Dan, Dan Wesson, Discretion. 45 ACP. Threaded, Wesson
Manufacturer SKU: 01885
Caliber: 45 ACP
Number of rounds: 8+1
Barrel length: 5.7"
Weight: 42 oz.
Features: Threaded. High Tritium Sights.
Condition: New In Box!
Price: $1,959 Credit, $1,920 Cash! $30 Shippiing UPS Air

Contact us about this product.
TOP OF THE LINE DAN WESSON READY FOR SUPPRESSION! With suppressors becoming more and more mainstream, the Discretion's match-grade stainless barrel is extended and threaded to make it a ready host. Its aggressively-ported slide, serrated trigger and competition-inspired hammer give it a look all of its own. Its high tritium sights allow for sighting over the top of most pistol suppressors, with a rear designed so that the slide can be racked on a belt if using the pistol one-handed.