THE GUN ROOM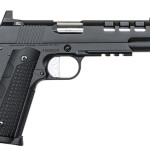 See full-sized image.
Status:
In Stock as of June 4, 2020
Category: Handguns
Brand: CZ - Dan Wesson
Keywords: Dan, Dan Wesson, Discretion. 45 ACP. Threaded, Wesson
Manufacturer SKU: 01885
Caliber: 45 ACP
Number of rounds: 8+1
Barrel length: 5.7"
Weight: 42 oz.
Features: Threaded. High Tritium Sights.
Condition: New In Box!
Price: $1,959 Credit, $1,920 Cash! $30 Shippiing UPS Air

Contact us about this product.
TOP OF THE LINE DAN WESSON READY FOR SUPPRESSION! With suppressors becoming more and more mainstream, the Discretion's match-grade stainless barrel is extended and threaded to make it a ready host. Its aggressively-ported slide, serrated trigger and competition-inspired hammer give it a look all of its own. Its high tritium sights allow for sighting over the top of most pistol suppressors, with a rear designed so that the slide can be racked on a belt if using the pistol one-handed.