THE GUN ROOM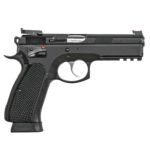 See full-sized image.
Status:
In Stock as of April 24, 2019
Category: Handguns
Brand: CZ - Dan Wesson
Keywords: 9mm, Custom, Custom Shop, CZ, Shadow, SP-01, Target, Target II, Trigger Job
Manufacturer SKU: 91257 (Manufacturer Link)
Caliber: 9 mm
Number of rounds: 18 + 1
Barrel length: 4.6"
Weight: 41.1 oz.
Features: Custom Shop Trigger Job. Adjustable Sights. All Steel.
Condition: New in Box!
Price: $1,539 Credit, $1,508 Cash! $30 Shiping by UPS Air

Contact us about this product.
A new model that will become the ultimate affordable competition pistol (and fun for just target practice)! Created by champion shooter Angus Hobdell's The CZ 75 SP-01 Shadow Target II is a competition-ready Pre-B style, featuring a CZ Custom trigger job with the new short reset single-action trigger, fully-adjustable rear sight, fiber optic front sight, stainless steel guide rod, lighter springs for competition (11 lb recoil and 13 lb main springs), extended magazine release, drop-free magazines and checkered aluminum grips. Comes with 3 18-round magazines!
Specifications:
Firearm Type:

Handgun

Purpose:

Competition

Chambering:

9mm Luger

Magazine Capacity:

18

Magazine TypeL

Double Stack

Frame:

Steel

Grips:

Thin Aluminum Checkered

Trigger: Mech

DA/SA Custom Shop Trigger Job

Sights:

Adjustable Target Rear Fiber Optic Front

Barrel:

Cold Hammer Forged

Barrel Length:

4.6 in

Weight:

41.1 oz

Overall Length:

8.15 in

Height:

5.79 in

Width:

1.46 in

Safety:

Ambidextrous Manual Safety, Safety Stop on Hammer
PLEASE CLICK ON PICTURES FOR MORE RESOLUTION!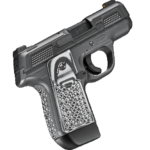 See full-sized image.
Status:
In Stock as of April 24, 2019
Category: Handguns
Brand: Kimber
Keywords: 9mm, Custom Shop, EVO, EVO SP, Kimber, Night Sights, Striker
Manufacturer SKU: 3900013 (Manufacturer Link)
Caliber: 9mm
Number of rounds: 7+1
Barrel length: 3.2"
Weight: 18 oz.
Features: Night Sight. Highly Resistant Finish. 7 Rounds - 2 Mags
Condition: New In Box!
Price: $909 Credit! $30 Shipping by UPS Air!

Contact us about this product.
New 2019 SHOT Show Product – Just Released!
Designed to be the ultimate choice in concealed carry pistols, EVO SP (Striker Pistol) was tailored by Kimber engineers to be the best shooting and most well equipped compact metal framed pistol on the market. Not only was EVO SP machined to the tightest allowable tolerances it was also put through multiple iterations of hands-on human factors testing to ensure the best possible user experience before finalizing the design. Standout features include an innovative grip system that eliminates hardware on the grip surface, a magazine release that can be configured for right or left-handed shooters, a striker indicator that allows for both a visual and physical confirmation the striker is cocked, ledged night sights for single hand manipulations and a sight picture no matter the light conditions, and a 6-7lb trigger with crisp reset. EVO SP is the ideal choice for shooters that demand a feature packed, compact size striker-fired firearm matched with all metal construction.
This Custom Shop model is the top of the line of the EVO SP line. Using modern machining techniques, the solid stainless-steel slide boasts modern weight saving style and Stiplex inspired slide serrations. Continuing to the frame, we added Stiplex inspired serrations in both the front strap and G10 grips to ensure positive retention in any situation. Also, included are upgraded TRUGLO TritiumPro sights and a 7-round magazine extended magazine. We topped this off with our patented KimPro II finish on the frame and an Ferritic Nitrocarburizing (FNC) slide to ensure long lasting durability. The Custom shop was designed in collaboration between our engineers and gunsmiths to provide the ultimate choice for concealed carry. The EVO SP (CS) ships with two 7 round magazines.
Note from The Scopesmith: After discontinuing the Kimber Solo, that was a very successful pistol but very picky with ammo, Kimber took two years to develop the EVO mechanism to be everything the Solo was intended to be. Tests of the EVO show high reliability with all brands and grain weight of 9mm ammo and the new EVO is more ergonomic and safe than the Solo.
PLEASE CLICK PICTURES FOR MORE RESOLUTION!