THE GUN ROOM

See full-sized image.
Status:
In Stock as of May 23, 2019
Category: Shotguns
Brand: Beretta
Keywords: 12 gauge, 3-Gun, Beretta, Comp, competition, Shotgun
Manufacturer SKU: J131C14N (Manufacturer Link)
Caliber: 12 gauge 3"
Number of rounds: 5+1
Barrel length: 24"
Weight: 6.7 lbs.
Features: "Blink" fast loading system. Optimabore HP Choke system.
Condition: New In Beretta Case
Price: $1,059 Credit, $1,038 Cash! $30 Shipping by UPS

Contact us about this product.
BACK IN STOCK – UPDATED MODEL !!!
1301 Comp: Ready to Go for 3-Gun Matches, Practical Shooting
The Beretta 1301 Comp semiauto shotgun is designed to win tactical competitions right out of the box. Designed to meet the requirements of the most demanding tactical shooters, it cycles faster than the competition, handles like a dream and has oversized controls for super-easy operation, plus an oversized loading and ejection port allowing for a multitude of loading style (load-2 or load-4 included). Available in two barrel lengths (21" and 24"), it features a drilled and tapped receiver for Picatinny rail mounts. And thanks to its Optimabore HP interchangeable choke system, it can also be adapted for other uses and will always perform like a Beretta.
Lightning-Fast Shooting, Easy Operation
The 1301 Comp features Beretta's proprietary Blink gas-operating system, which enables it to shoot 4 shots in less than 1 second–that is, 36% faster than any other brand. But even with this tremendous advantage, Beretta's engineers did not stop there. The controls are supersized so that the 1301 can be operated quickly and easily when seconds count: the cocking handle, bolt-release lever as well as the loading and ejection ports are oversized for simple and intuitive use under the heat of competition.
Ultra-Durable Steelium Barrel
The barrel of the 1301 Comp is made of Steelium, Beretta's own steel blend designed to give premium performance even after tens of thousands of rounds. It features a stepped, wide sporting rib that minimizes mirage, and it has both a mid-bead and front fiberoptic sight for instinctive pointing under most lighting conditions. And thanks to the Optimabore HP choke system, the 1301 offers unmatched ballistic performance, with constant patterns regardless of load used.
Best-in-Class Tactical Stock
Having worked with military and police forces all around the world, Beretta offers you decades of experience building firearms that meet the strictest demands of professional shooters. The 1301 embodies this experience, with its short stock with aggressive non-slip checkering for positive handling under the stress of competition. Also, the length of pull is user-adjustable so that this shotgun will give you the best fit and the most natural pointing regardless of your shooting style, thickness of clothing or body size.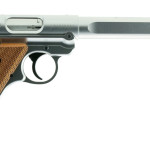 See full-sized image.
Status:
In Stock as of May 23, 2019
Category: Handguns
Brand: Ruger
Keywords: 22 LR, competition, Mark IV, MK IV, Ruger, Target
Manufacturer SKU: 40112 (Manufacturer Link)
Caliber: 22 Long Rifle
Number of rounds: 10+1
Barrel length: 6.9"
Weight: 45.8 oz.
Features: Stainless Steel. Adj. Sight. Easy takedown. Target grips.
Recommended Scope: Drilled and tapped for optics if desired.
Condition: New In Box
Price: $579 Credit, $567 Cash! $30 Shipping by UPS Air.

Contact us about this product.
New for 2017! The new Ruger's Mark IV Competition pistol has a simple, one-button takedown for quick and easy field-stripping and proper chamber-to-muzzle cleaning. A recessed button in the back of the frame allows the upper receiver to tilt up and off of the grip frame without the use of tools. It features an one-piece, precision CNC-machined grip frame, ergonomic bolt stop, a contoured ejection port and easy-to-grasp bolt ears allow for durable and reliable operation round after round.The accurate sighting system features adjustable rear sight and drilled and tapped receiver for Weaver or Picatinny-style rail for easy mounting of optics. 6.88 inches barrel 1:16 RH. Included are two 10-round magazines. High grade Laminated Target wood grips (right hand with left side thumbrest). 2 Magazines.
PLEASE CLICK PICTURES FOR MORE RESOLUTION

See full-sized image.
Status:
In Stock as of May 23, 2019
Category: Handguns
Brand: Colt
Keywords: 38 Super, Colt, competition, Government, stainless
Manufacturer SKU: O1083CCS (Manufacturer Link)
Caliber: 38 Super
Number of rounds: 9+1
Barrel length: 5"
Weight: 36 oz.
Features: Please read description!
Condition: New In Box!
Price: $1,069 Credit, $1,048 Cash! $30 Shipping.

Contact us about this product.
The Colt Competition Pistol™ is a race-ready full size Government Model® built with the competitor in mind. Featuring our Dual Spring Recoil System™, Novak's new adjustable rear sight and fiber optic front sight, acquiring and staying on target is easy. The pistol also features competition ergonomics including an undercut trigger guard and upswept beavertail, allowing shooters a higher grip for enhanced comfort and accuracy. Custom blue Colt G10 stocks and the legendary National Match® barrel complete the package. This 38 Super version comes in Stainless Steel Finish!

See full-sized image.
Status:
In Stock as of May 23, 2019
Category: Handguns
Brand: Cimarron Firearms
Keywords: 45 LC, Cimarron, competition, Evil, Evil Roy, Holy Smoker, SAA, Uberti
Manufacturer SKU: ER4101 (Manufacturer Link)
Caliber: 45 Long Colt
Number of rounds: 6
Barrel length: 5.5"
Weight: 36 oz.
Features: Case Hardened Frame, Blue Barrel. Tunes Action and Trigger.
Condition: New in Box!
Price: $659 Credit, $646 Cash! $30 Shipping by UPS

Contact us about this product.
Starting in June 2016 we started selling the wonderful line of western replica firearms of Cimarron Firearms. We are not planning to carry a large stock but have access to their full line (firearms only). You can check their offerings at the Cimarron website. Please check them out and place your order! 2 -4 days delivery in most models!
The Evil Roy version of the Cimarron Model "P" features a wide square notch rear and wide constant width front sight, slim grips hand checkered European walnut, an action tuned in the U.S. by a skilled gunsmith complete with lightened trigger and hammer springs, no creep trigger pull, and improved internals for reliability." Quoting Evil Roy: "Wicked Felina, Holy Terror and I have many thousands of cycles of dry and live fire through these guns with no failures. Our guns have been subject to more use in one year than the average shooter will have in a lifetime."
The Scopesmith comment on Cimarron Firearms: With the skyrocketing market value of original or recent production Colt SAA guns and the "Anti-liability" design modification of our American made SAA replicas the excellent replicas made by the Italian companies Uberti and Pietta are the only option for experiencing the original feel of western firearms. Their finish and quality of materials is modern, a lot better that the guns of the 19th century they replicate but the design is original. Despite their striking looks these guns are shooters! With its action tuned and expert trigger job this Evil Roy version of the SAA "P" will become your favorite cowboy gun!
Next »