THE GUN ROOM

See full-sized image.
Status:
In Stock as of September 22, 2018
Category: Rifles
Brand: Browning
Keywords: 26 Nosler, Browning, Hell Canyon, Lon Range, McMillan
Manufacturer SKU: 035395287 (Manufacturer Link)
Caliber: 26 Nosler
Number of rounds: 3+1
Barrel length: 26"
Weight: 7.7 lbs.
Features: Top of the line from the X-Bolt line! Please see specs!
Recommended Scope: Nightforce ATACR or NSX. Swarovski X5 or Z8
Condition: New in Box!
Price: $1,899 Credit, 1,861 Cash! $30 Shipping by UPS

Contact us about this product.
THE ULTIMATE LONG RANGE HUNTER! The extremely hard to get LIMITED EDITION Browning X-Bolt HELL'S CANYON Long Range -McMillan Stock! with Left-handed configuration, A-TACS AU (Arid/Urban) camouflage, McMillan Game Scout stock, Cerakote Burnt Bronze finish, fluted, threaded muzzle brake. IN THE HARD HITTING (3,300 FPS A MUZZLE WITH 140 GRAINS!) 26 NOSLER – THE MOST SUCCESSFUL CALIBER OF THE NOSLER FAMILY!
Accuracy is another name for this rifle. This X-Bolt is no ordinary X-Bolt, and it is not for the ordinary hunter. Putting the proven X-Bolt action into a McMillan Game Scout stock offers the long range shooter a platform so solid you now can concentrate on ammo and your mind to get the maximum accuracy. The stock is fitted with two quick detach (QD) cups for a sling, plus it has a single front swivel just for a bipod (not included).
Game Scout Stock. This exceptional stock features a medium sized forend with straight comb butt stock. It offers a smooth transition for shooters used to a tactical stock that need a compact hunting stock.Texture panels on the forend and pistol grip offer a great feel. It also features a comfortable vertical pistol grip with thumbshelf. It is it is finished off with a dip with the exceptional A-TACS AU (Arid/Urban) camouflage.
RECEIVER – Steel; Cerakote Burnt Bronze finish; Glass bedded; Drilled and tapped for scope mounts
BARREL – 26"; Threaded muzzle brake on suppressor threads (thread protector included); Cerakote Burnt Bronze finish; Free-floating; Hand chambered; Target crown
ACTION – Bolt-action; 60° bolt lift; Adjustable Feather Trigger; Detachable rotary magazine; Top-tang safety; Bolt unlock button
STOCK – McMillan Game Scout; Textured gripping surfaces; Palm swell; A-TACS AU (arid/Urban) camouflage finish
FEATURES – Sling swivel studs — two quick detach (QD) cups for a sling and a swivel stud for a bipod; Pachmayr Decelerator recoil pad
McMillan Game Scout gives a sporter style stock with tactical long range features of vertical pistol grip and high comb. McMillan stocks are US Marine proven tough, now on the Browning X-Bolt
| | |
| --- | --- |
| Item Number 035395287 | UPC 023614442103 |
| Action Length Long Action | Caliber 26 Nosler |
| Barrel Length 26″ | Overall Length 46 3/4″ |
| Length of Pull 13 5/8″ | Drop at Comb 1/2″ |
| Drop at Heel 1/2″ | Weight 7 lbs 12 oz |
| Magazine Capacity 3 | Twist Rate 8″ |
| Barrel Finish Burnt Bronze Cerakote | Stock Finish A-TACS AU |
| Receiver Finish Burnt Bronze Cerakote | Chamber Finish Polished |
| Barrel Material Steel | Barrel Contour Heavy Sporter |
| Stock Material Composite | Recoil Pad Pachmayr Decelerator |
| Pistol Grip Cap None | Checkering Textured Grip Panels |
| Sling Swivel Studs 2 QD Cups | Receiver Material Steel |
| Trigger Finish Gold Plated | Bolt Slide Finish High Gloss |
| Magazine Type Detachable | Trigger Material Alloy |
| Trigger Guard Material Alloy | Trigger Guard Engraving Buck Mark in Gold |
| Floor Plate Material Composite | Drilled and Tapped for Scope Yes |
PLEASE CLICK PICTURES FOR MORE RESOLUTION!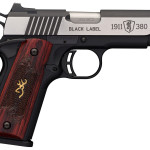 See full-sized image.
Status:
In Stock as of September 22, 2018
Category: Handguns
Brand: Browning
Keywords: 1911, 1911-380, 380 ACP, Black Label, Browning, compact, Medallion, Pro
Manufacturer SKU: 051-915492
Caliber: 380 ACP
Number of rounds: 8+1
Barrel length: 4.25"
Weight: 16 oz.
Features: Stainless Slide. Night Sights. Rosewood Grips w/ Gold Inlay.
Condition: New In Box!
Price: 749 Credit, 734 Cash! $30 Shipping by UPS Air

Contact us about this product.
THE DELUXE VERSION OF THE EXCELLENT 1911-380 FROM BROWNING! Probably one the most beautiful and functional 380s ever made. From Browning: "A little goes a long way. Too small and it s becomes too hard to shoot. Too big and you can't fit it where it needs to go. It has to be  just right. The 1911-380 is 85% of the size of the original 1911 45 ACP model. Its ideal for concealed carry duty, and for fitting a wider variety of shooters.The 1911-380 is the only authentically designed, full-featured 1911-style handgun currently available that is chambered in 380 ACP. Compact, for sure. But the 1911-380 is just a tiny bit larger than many micro 380s. Why?  You get greater shooting comfort because the grip is long enough for three fingers to fit below the trigger guard.The Browning 1911-380 combines two of John M. Browning's most lasting innovations – the Model 1911 and the 380 ACP cartridge – into a modern, lightweight pistol. Unlike most of the modern "pocket pistols" that chamber the snappy 380 ACP cartridge, the 1911-380 is slightly larger to better manage recoil for improved control that makes follow-up shots faster and more accurate. The longer barrel increases bullet velocity for more downrange punch and improved acccuracy. The grip is compact, yet is long and wide enough to allow the shooting hand full purchase for added shooting comfort"
The 1911-380 Black Label Medallion Pro Compact has rosewood grips with gold Buckmark inlay. The slide has a blackened stainless steel finish with silver brushed polished flats, and steel night sights. The composite frame has a matte black finish with machined 7075 aluminum subframe and ergonomic and skeletonized controls. Included is ABS carry case and two 8-round magazines!

See full-sized image.
Status:
In Stock as of September 22, 2018
Category: Shotguns
Brand: Browning
Keywords: 12 gauge, Browning, Citori, Feather
Manufacturer SKU: BR013-5663004 (Manufacturer Link)
Caliber: 12 Gauge 3"
Number of rounds: 2
Barrel length: 28"
Weight: 6.56 lbs.
Features: Please see description
Condition: New In Box!
Price: $2,209 credit, $2,165 cash!

Contact us about this product.
The 725 receiver is significantly lower than other Citori 12 gauge receivers, yet the 725 shares the renowned durability of generations of Citori over and unders with the same rugged full-width hinge pin and tapered locking bolt design. With a 725, you get the 'one with the gun' feeling you want, with the long lasting durability you expect from a Browning over and under. The 725 showcases an mechanical trigger that offers unmatched feel and lighter pull weights than ever before. Inflex technology has also been added to make shooting more comfortable. And the Invector-DS choke system moves to a new level of performance. It has a gloss oil finisheded Grade II/III walnut stock with an engraved alloy receiver.
 SPECS: FAMILY:Citori Series
 MODEL: Citori 725 Feather
 TYPE: Shotgun Over / Under
 FINISH: Blue
 STOCK/FRAME: Wood Stock Grade II/III Walnut
 CALIBER/GAUGE:12 Gauge
 CAPACITY: 2
 BARREL:28″
 OVERALL LENGTH: 45.75″
 WEIGHT: 6.56 lb
 CHAMBER: 3″
 CHOKE TUBES: F, M, IC
 RECEIVER: Silver Nitride Finish Accented High-Relief Engraving
 SIGHTS: Ivory Front & Mid-Bead Sights
 ADDL INFO: Vector Pro Forcing Cones. Mechanical Trigger System
Next »