THE GUN ROOM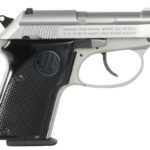 See full-sized image.
Status:
In Stock as of January 26, 2020
Category: Handguns
Brand: Beretta
Keywords: 32 ACP, 32 Auto, Beretta, Inox, stainless, Tomcat
Manufacturer SKU: J320500 (Manufacturer Link)
Caliber: 32 Auto
Number of rounds: 7+1
Barrel length: 2.4"
Weight: 14.5 oz.
Features: Stainless. 14.5 onces!
Condition: New in Box!
Price: $409 Credit, $401 Cash! +30 Shipping by UPS Air

Contact us about this product.
BACK IN STOCK! Collectable, an always reliable classic that can save your life! The Beretta 3032 Tomcat Inox is tiny, sized like average cell phone. Besides offering the power of the .32 ACP cartridge, it sports a tough and durable stainless-steel finish.As such, this double/single-action autopistol it is perfect for deep concealment or used as a backup second handgun. Its tip-up barrel design makes it easy to load, operate and maintain, while its traditional looks give it the allure of a true classic.
The controls of the 3032 Tomcat Inox are designed to be simple and to provide safety and peace of mind while carrying. The two-position safety engages crisply and positively, and locks the slide as well as preventing the pistol from firing. The magazine release is located to the left of the grip, making it easy to locate and operate even with one hand. The 3032 features a tip-up barrel design typical of the classic Beretta small-frame pistols. Thanks to this design, you never need to rack the slide and you can load that first round directly into the chamber. This is especially convenient in cold weather, or for people with weaker hands. Another advantage is that the barrel may be easily cleaned without taking the pistol apart, making it convenient to give the pistol a quick wipe after a session at the range. Right from their inception, Beretta small frame pistols such as the 3032 Tomcat Inox were designed to be carried concealed. Therefore, the lines of the Tomcat are snag-free, with the sights being engineered to easily slide in and out of a holster, pocket or belly-band without catching on anything. The rear sight is adjustable for windage, so that you can easily experiment shooting different loads while keeping your sights on target. All these features have made Beretta small frames like the 3032 a favorite for concealed carry and self-defense.
PLEASE CLICK PICTURES FOR MORE RESOLUTION!

See full-sized image.
Status:
In Stock as of January 26, 2020
Category: Handguns
Brand: Beretta
Keywords: 22 LR, Beretta, Bobcat, Inox, stainless
Manufacturer SKU: J212500 (Manufacturer Link)
Caliber: 22 LR
Number of rounds: 7+1
Barrel length: 2.4"
Weight: 11.5 oz.
Features: Stainless. 11.5 onces!
Condition: New in Box!
Price: $359 Credit, $352 Cash! +30 Shipping by UPS Air

Contact us about this product.
BACK IN STOCK – ONE UNIT! Collectable, a conversation piece, fun and can even save your life! The very hard to find Beretta Bobcat is the ultimate in concealability, in .22 LR may be tiny, but it is a reliable defensive arm. The tip-up barrel of this double-action pocket pistol allows rounds to be loaded directly into the chamber without slide retraction. Precisely rifled for accuracy, the barrel is forged out of high strength stainless steel. This compact, rugged frame measures just 4.9 inches overall and weighs only 11.5 ounces. The Inox Bobcat model has a stainless steel slide and barrel with an exceptionally corrosion-resistant and durable gray-anodized frame to match the color and finish of the stainless components. The other metal parts (trigger, hammer, trigger guard, safety, magazine, etc.) are black finished.

See full-sized image.
Status:
In Stock as of January 26, 2020
Category: Shotguns
Brand: Beretta
Keywords: 12 gauge, 3-Gun, Beretta, Comp, competition, Shotgun
Manufacturer SKU: J131C14N (Manufacturer Link)
Caliber: 12 gauge 3"
Number of rounds: 5+1
Barrel length: 24"
Weight: 6.7 lbs.
Features: "Blink" fast loading system. Optimabore HP Choke system.
Condition: New In Beretta Case
Price: $1,059 Credit, $1,038 Cash! $30 Shipping by UPS

Contact us about this product.
BACK IN STOCK – UPDATED MODEL !!!
1301 Comp: Ready to Go for 3-Gun Matches, Practical Shooting
The Beretta 1301 Comp semiauto shotgun is designed to win tactical competitions right out of the box. Designed to meet the requirements of the most demanding tactical shooters, it cycles faster than the competition, handles like a dream and has oversized controls for super-easy operation, plus an oversized loading and ejection port allowing for a multitude of loading style (load-2 or load-4 included). Available in two barrel lengths (21" and 24"), it features a drilled and tapped receiver for Picatinny rail mounts. And thanks to its Optimabore HP interchangeable choke system, it can also be adapted for other uses and will always perform like a Beretta.
Lightning-Fast Shooting, Easy Operation
The 1301 Comp features Beretta's proprietary Blink gas-operating system, which enables it to shoot 4 shots in less than 1 second–that is, 36% faster than any other brand. But even with this tremendous advantage, Beretta's engineers did not stop there. The controls are supersized so that the 1301 can be operated quickly and easily when seconds count: the cocking handle, bolt-release lever as well as the loading and ejection ports are oversized for simple and intuitive use under the heat of competition.
Ultra-Durable Steelium Barrel
The barrel of the 1301 Comp is made of Steelium, Beretta's own steel blend designed to give premium performance even after tens of thousands of rounds. It features a stepped, wide sporting rib that minimizes mirage, and it has both a mid-bead and front fiberoptic sight for instinctive pointing under most lighting conditions. And thanks to the Optimabore HP choke system, the 1301 offers unmatched ballistic performance, with constant patterns regardless of load used.
Best-in-Class Tactical Stock
Having worked with military and police forces all around the world, Beretta offers you decades of experience building firearms that meet the strictest demands of professional shooters. The 1301 embodies this experience, with its short stock with aggressive non-slip checkering for positive handling under the stress of competition. Also, the length of pull is user-adjustable so that this shotgun will give you the best fit and the most natural pointing regardless of your shooting style, thickness of clothing or body size.
Next »