THE GUN ROOM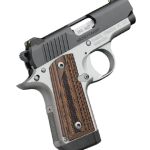 See full-sized image.
Status:
In Stock as of January 18, 2021
Category: Handguns
Brand: Kimber
Keywords: 380 ACP, Advocate, Brown, Carry, Kimber, Micro
Manufacturer SKU: 3300085 (Manufacturer Link)
Caliber: 380 ACP
Number of rounds: 7+1
Barrel length: 2.75"
Weight: 13.4 oz.
Features: Two Tone. Night Sights. G10 Grips. Extended Mag. Holster
Condition: New In Box with soft case!
Price: $699 Credit, 685 Cash! $30 Shipping by UPS Air.

Contact us about this product.
BACK IN STOCK! The new Micro family of .380 ACP pistols put power and legendary Kimber dependability in a small 1911-style platform. Mild recoil and simple operation make them an ideal choice for many shooters. They are the finest .380 ACP pistols anyone can carry.
The Micro Carry ADVOCATE was introduced in the 2015 SHOT show. It features night sights, an attractive two-tone looks, G10 Brown grips and the intuitive operation of a 1911 with the added benefit of an extended magazine. Comes with a soft pouch case!