THE GUN ROOM

See full-sized image.
Status:
In Stock as of August 21, 2018
Category: Handguns
Brand: CZ - Dan Wesson
Keywords: 9mm, compact, CZ, CZ P10, CZ P10 C
Manufacturer SKU: 91517
Caliber: 9mm
Number of rounds: 15 + 1
Barrel length: 4.02"
Weight: 26 oz.
Features: Striker. Night Sights. Rail. 15+1
Condition: New In Box!
Price: $489 Credit, $479 Cash! $30 Shipping by UPS

Contact us about this product.
New CZ P-10 Compact:
Much more than just CZ take on the striker-fired pistol, the P-10 is decidedly CZ, from the way it feels to the way it shoots. First order of business, ergonomics. Anyone who's picked up a CZ 75 for the first time gets it — it just has to feel right in the hand. With the CZ grip angle, the P-10 avoids that "brick-in-the-hand" feeling that has plagued many in the striker-fired genre, allowing it to point naturally. A mild palm swell, deep beavertail and three interchangeable backstraps make the P-10 fit a wide variety of hands as if it were built for them. Because it was. Next up, trigger. Many striker-fired pistols do many things right and then fall short when it comes time to pull the trigger. Designed to minimize creep and stacking, the P-10's trigger breaks clean and light and rebounds with a short, positive reset, meaning single shots can be meticulously placed while follow-ups are effortless. Built to withstand the rigors of military use, its fiber-reinforced polymer frame and hardy nitride finish are made for the daily grind. A generous trigger guard allows use with gloved hands while being undercut to allow as high a grip as possible, and, on this model, a set of night sights sights allow for one-handed manipulation of the slide on a belt. Like all CZ pistols, the P-10 is built with CZ legendary cold hammer-forged barrel.The "Compact" indicates that it is compact in both frame and slide size, and magazines are backwards-compatible with the hammer-fired P-07, meaning the P-10 C holds 15+1 in 9mm in a flush-fitting mag, with extended bases allowing 17+1. Take-down of the P-10 will be familiar to most fans of striker-fired guns, and even more pleasing will be holster compatibility with some of the most common guns on the market. An ambidextrous mag release and slide stop make the P-10 easy to operate with either hand. It may have taken a while to come to market, but we feel the wait has been worth it. With CZ reliability, engineered ergonomics and a bevy of features both familiar and new, the P-10 is the complete package.

See full-sized image.
Status:
In Stock as of August 21, 2018
Category: Handguns
Brand: FN Herstal
Keywords: 509, 9mm, FN, FN USA, Herstal, Optics Ready, Tactical, threaded
Manufacturer SKU: 66100373 (Manufacturer Link)
Caliber: 9 mm
Number of rounds: 17+1 or 24+1
Barrel length: 4.5"
Weight: 27.9 oz.
Features: Threaded. Optics Ready. Tall Sights. Case
Condition: New in Box and Soft case!
Price: $859 Credit, $842 Cash. $30 Shipping by UPS Air

Contact us about this product.
NEW FN 509 TACTICAL! The FN 509® Tactical, an extension of the FN 509 family, is based on FN's submission pistol that the U.S. Army tested for its Modular Handgun Trials, but includes the significant improvements to the design that were implemented in the FN 509. The pistol features the company's patent-pending Low-Profile Optics Mounting System™ that enables the platform to accept more than ten commercially-available miniature red dot (MRD) optics that co-witness with the suppressor-height night sights and remain adaptable to future optics releases with no requirement of direct milling of the slide. The slide cap, for use when not shooting with an optic, has raised sight wings that protect iron sight alignment if the pistol is dropped or jostled, and provides a textured ramp for racking the slide against a belt loop, pant pocket or boot. An FN-signature 4.5-inch, cold hammer-forged, stainless-steel barrel with target crown, ½" x 28 threads that accept the bulk of 9mm suppressors available and thread cap with integrated O-ring to prevent loosening during use complete the top end. Lastly, the 24-round magazines, nearly identical in length to the pistol's slide, maximize ammunition capacity without impacting carry convenience.
SPECIFICATIONS:
CALIBER: 9mm
OPERATION: Double-action
MAG CAPACITY: 10 or 17/24 Rd.
WEIGHT: 27.9 oz.
BARREL LENGTH: 4.5″
OVERALL LENGTH: 7.9″
TWIST RATE: 1:10″ RH
HEIGHT: 5.75″
WIDTH: 1.35″
TRIGGER PULL: 5.5 – 7.5 lb.
SIGHT RADIUS: 5.79″
PRIMARY FEATURES:
Striker-fired autoloader
5.5 to 7.5 lbs. Trigger pull
FN Low Profile Optics Mounting System™
Threaded Barrel
Suppressor Height Night Sights
FN Low Profile Optics Mounting System™
Sight Protecting Slide Cap
External extractor; loaded chamber indicator
Cold hammer-forged stainless steel barrel with recessed target crown, polished chamber and feed ramp. 1/2" x 28 threaded with O-Ring retention thread cap
Enhanced grip texture which enables faster follow-up shots in all conditions with interchangeable backstraps and MIL-STD-1913 accessory mounting rail
Fully ambidextrous slide stop lever and magazine release. High visibility, low-friction follower; polymer base with black finish and Two interchangeable backstraps
One 17-round and two 24-round magazines
FN logo soft pistol case with Owner's manual and locking device
PLEASE CLICK PICTURES FOR MORE RESOLUTION!

See full-sized image.
Status:
In Stock as of August 21, 2018
Category: Handguns
Brand: Wilson Combat
Keywords: 9mm, Combat, Double Stack, EDC, EDCX9, Wilson
Manufacturer SKU: EDCX9 (Manufacturer Link)
Caliber: 9mm
Number of rounds: 15+1
Barrel length: 4"
Weight: 29.1 oz.
Features: Fiber Optic Front Sight. Double Stack. Special Serrations.
Condition: New In Wilson Soft Bag!
Price: $2,895. Free UPS 2nd Air Shipping!

Contact us about this product.
Wilson Combat's EDC X9 is an everyday carry, 1911 with match-grade accuracy, superior ergonomics, and concealability with modern service pistol capacity and reliability. It is a hybrid of Wilson's EDC 9 1911 slide assembly with a high-capacity X-frame. The slide assembly features ERS "Enhanced Reliability System". The ERS is tailored to the varying power level of 9mm ammunition and maintains impressive reliability in all conditions. Other features include a Tri-Top slide profile with user-replaceable front sight, rear tactical adjustable battlesight, single lug tapered cone match-grade barrel, and a rugged, user-serviceable external extractor. The screwless, X-frame is machined from T6-7075 aluminum and accepts a high capacity magazine with a grip that is smaller in circumference than a standard 1911 while retaining traditional 1911 controls. It uses hammer spring tension to keep the aggressive traction Wilson/VZ G-10 starburst pattern grips securely in place. The X-frame also features a small backstrap and medium trigger pad. The front and back strap are machined with the Wilson Combat X-Tac tread pattern which provides a tactile but nonabrasive grip. Included are two 15-round magazines.
Specifications:
Caliber: 9mm
Magazine Capacity: 15 rounds
Barrel Length: 4"
Overall Length: 7.4"
Sight Radius: 5.6"
Height: 5.25"
Width: 1.4"
Weight Empty: 29.09 oz
Weight Loaded: 35.04 oz
Accuracy Guarantee: 1.5" at 25 yrds
More Details!
High-Capacity Compact Size Aluminum X-Frame with Reliability Enhanced Frame Rails
Unique X-TAC Frontstrap/Mainspring Housing Treatment
Concealment Bullet Proof® Hammer
Bullet Proof® Thumb Safety
3 ½# – 4 ½# Crisp Trigger Pull with Medium Length Pad
Bullet Proof® Magazine Release
Black G10 Aggressive Starburst Grips with Pewter Medallions
4" Stainless Steel Tri-Top Slide with External Extractor
Unique X-TAC Rear & Front Cocking Serration Treatment on Slide
Heavy Machine Chamfer on Bottom of Slide
Elevation Adjustable Tactical Battlesight with Fiber Optic Front Sight with 4-40 Hex Head Cap Screw
4" Stainless Cone Barrel with Reliability Enhancing Lock-up, Flush Cut Reverse Crown
Fluted Chamber
Fluted Barrel
30 LPI Slide Top Serrations
40 LPI Serrated Rear of Slide
Carry Cuts/Ball Endmill Cuts
2 15-Round Capacity Magazines
PLEASE CLICK PICTURES FOR MORE RESOLUTION!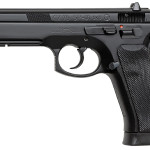 See full-sized image.
Status:
In Stock as of August 21, 2018
Category: Handguns
Brand: CZ - Dan Wesson
Keywords: 75, 9mm, CZ, CZ-75, CZ75, SP-01
Manufacturer SKU: 91152
Caliber: 9 mm
Number of rounds: 18+1
Barrel length: 4.7"
Weight: 43.2 lbs.
Features: Double/single Action without Decocker. Night Sights. Rail.
Condition: New In Box!
Price: $629 Credit, $616 Cash! $30 Shipping by UPS

Contact us about this product.
The CZ 75 SP-01 is the first full size handgun (4.72  bbl) from CZ to feature the improved manufacturing technology and ergonomics of the NATO-approved CZ 75 Compact P-01 model. Featuring an integral 1913 accessory rail on the dust cover, rubber grip panels, and CZ s corrosion resistant black polycoat finish.  The SP-01 utilizes an extended beavertail to protect the shooter's strong hand as well as allowing for a deeper and more secure grip. The grip geometry, checkering in key areas on the front and back straps, and redistribution of mass provided by the accessory rail noticeably decrease the perceived recoil from previous models and allows for more rapid target acquisition and transition. Thanks to its exceptional accuracy and superior handling characteristics, the CZ 75 SP-01 has also found supporters in the field of sport and target shooting.
From The Scopesmith: the CZ-75 is the best kept secret on handguns. An evolution of the legendary Browning Hi Power with the same "feel" in the hand but with modern features: double action/single action with ambi decocker, a great trigger, tactical rail,  night sights and IS ALL METAL!

See full-sized image.
Status:
In Stock as of August 21, 2018
Category: Handguns
Brand: Glock
Keywords: 9mm, G34, Gen 5, Glock, MOS, Safe Action
Manufacturer SKU: PA3430103MOS (Manufacturer Link)
Caliber: 9 mm
Number of rounds: 17+1
Barrel length: 5.3"
Weight: 26.2 UL oz.
Features: Safe Action. Rail. nDLC finish, Marksman Barrel. MOS System
Condition: New in Box!
Price: $699 Credit, $685 Cash! $30 Shipping by UPS

Contact us about this product.
The GLOCK 26 Gen5 MOS showcases the latest technology and engineering that drives GLOCK's constant pursuit of perfection. The G26 Gen5 features over 20 design modifications from its Gen4 predecessor. The GLOCK 34 Gen5 MOS features an extended barrel and greater slide dimensions, making it a favorite among sport shooting competitors. Design enhancements include the GLOCK Marksman Barrel (GMB) which delivers increased accuracy with enhanced polygonal rifling and an improved barrel crown, no finger grooves, ambidextrous slide stop levers for better versatility and control, and an nDLC finish, which is a tougher and more durable finish that is exclusive to the GLOCK manufacturing process. This Glock 34 Gen5 MOS model has adjustable sights and a 17-round capacity. Comes optics-ready with milled receiver with covering plate and adapter plates for your favorite RMR/Reflex sight.
Next »