THE GUN ROOM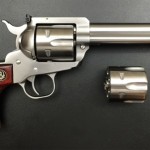 See full-sized image.
Status:
In Stock as of June 23, 2017
Category: Handguns
Brand: Ruger
Keywords: 357Mag, 9mm, Blackhawk, Revolver, Ruger
Manufacturer SKU: 5247
Caliber: 357 Mag and 9mm
Number of rounds: 6
Barrel length: 5.5"
Weight: 44 oz.
Features: 2 Cylinders. Stainless Steel. Mid Frame.
Condition: New In Box!
Price: $639 Credit, $626 Cash $30 Shipping by UPS Air

Contact us about this product.
This special edition RUGER BLACKHAWK FLATTOP Convertible model comes equipped with an extra cylinder and is popular with shooters who appreciate the classic single-action revolver but opt for the versatility of being able to use more than one caliber in their handgun. With its interchangeable cylinder this revolver can be easily converted from 357 Magnum/38 Special to 9mm Luger (9mm NATO) without the use of tools. This versatility allows avid shooters of autoloading pistols to enjoy shooting a classic American single-action sidearm with their favorite pistol cartridge. All stainless steel with beautiful wood grips.

See full-sized image.
Status:
In Stock as of June 23, 2017
Category: Handguns
Brand: CZ - Dan Wesson
Keywords: 9mm, CZ, CZ-75, CZ75, Orange, Sport, Tactical
Manufacturer SKU: 91261 (Manufacturer Link)
Caliber: 9mm
Number of rounds: 20+1
Barrel length: 5.4"
Weight: 47.5 oz.
Features: IPSC Ready. Adjustable Sights. Target low-weight trigger.
Condition: New In Box!
Price: $1,599 credit, $1,567 cash! $30 Shipping UPS Air

Contact us about this product.
TARGET OR COMPETITION READY OUT OF THE BOX! The weight and balance of the CZ 75 Tactical Sport is optimized for the rapid, accurate style of shooting necessary for success in practical shooting disciplines. The tactical sport model is the next generation of the proven CZ 75 standard IPSC. The TS retains all of the best features of standard IPSC model and improves upon the platform with increased durability,  sights, low weight crisp trigger system and more. Turning the Tactical Sport up a notch, the Orange borrows a number of design features from the IPSC Open Czechmate and incorporates a few of its own. With the slimmer trigger guard, revised grip geometry and finer checkering from the Czechmate frame, it adds a thumb stop and fully-adjustable target sights. With the same long slide and full-length dust cover as the standard TS, it also shares the single-action-only trigger, giving it an incredibly light pull and short reset, making it a joy to shoot at the range and deadly in competition! Comes in a large case with three magazines (with orange butt-plates) and cleaning accessories.
PLEASE CLICK PICTURES FOR MORE RESOLUTION!

See full-sized image.
Status:
In Stock as of June 23, 2017
Category: Handguns
Brand: Les Baer Custom
Keywords: 9mm, Baer, Black Baer, Les, Les Baer
Manufacturer SKU: LBP9011 (Manufacturer Link)
Caliber: 9 mm
Number of rounds: 9 +1
Barrel length: 4.25"
Weight: 38 oz.
Features: Supported Chamber, Night Sights, Rounded Edges
Condition: New in Box!
Price: $2,895. Free Shipping by UPS 2nd Day Air

Contact us about this product.
Arguable the new king of 9mm 1911s! Since concealed carry has finally become legal in all fifty states, the search for suitable carry guns has moved front and center on the wish list of many American gun owners. Of all the comments and requests received by Les Baer Custom, three requirements are the most common:
1) A 1911 style, single action pistol built with Les Baer's unique blend of reliability and accuracy;
2) A compact size, suitable for comfortable concealed carry inside the waistband, in a hip holster, or virtually anywhere else a CCP holder chooses to carry a defense pistol;
3) chambering in a caliber that offers higher magazine capacity than most 1911 style pistols but that still delivers ample stopping power in emergencies and is readily available in many factory loads or as components for reloaders.
The search is over. Last year Les Baer Custom has introduced the new 1911 BLACK BAER, a compact little powerhouse based on Les' popular "Commanche" pistol and chambered in high velocity, hard hitting 9mm. As with all Les Baer pistols, the BLACK BAER is built with the same attention to detail and precision engineering that have made Les Baer 1911s a legend in the firearms industry. The BLACK BAER is guaranteed to deliver 3″ groups at 50 yards so, even with its reduced size, it's a serious shooter. Standard features include:
Baer steel NM frame, NM slide and NM supported 9mm barrel with Baer stainless bushing • Slide fitted to frame • Baer deluxe fixed rear combat night sight • Baer dovetail front night sight • Rear serrated slide • Baer speed trigger with crisp 4 lb. pull • Baer deluxe hammer and sear •Baer tactical extended combat safety • Beveled magazine well • Polished feed ramp and throated barrel • Tuned extractor • Baer extended ejector • Baer checkered slide stop • Lowered and flared ejection port • High checkered front strap @ 30 lpi • Flat checkered mainspring housing @ 20 lpi • Tuned for total reliability • All corners rounded for tactical carry • Black recon grips • Dupont S coating on complete pistol for maximum corrosion resistance • (2) 9-round magazines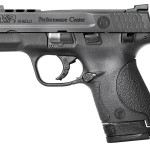 See full-sized image.
Status:
In Stock as of June 23, 2017
Category: Handguns
Brand: Smith & Wesson
Keywords: 9mm, Center, M&P, Performance, Pistol, Ported, Shield, Smith, Wesson
Manufacturer SKU: 11630
Caliber: 9mm
Number of rounds: 7+1 or 8+1
Barrel length: 3.75"
Weight: 20 oz.
Features: PORTED. Night Sights. Flush and Extended Magazines!
Condition: New In Box
Price: $539 credit. $$528 cash $30 Shipping!

Contact us about this product.
The top of the line of the Shield line now with Night Sights! From the cover of all gun magazines to your pocket! America's favorite compact gun now tuned and improved by Smith & Wesson Performance Center!
Incorporates the design features of the highly successful M&P line of firearms. Extremely thin and lightweight design means that it can be comfortably carried all day. Single sided thumb safety and slide stop maximize slimness. M&P's patented take down lever and sear deactivation system allows for disassembly without pulling the trigger. Chambered in 9mm for proven stopping power. Includes 2 magazines, one with extended capacity for a full grip. 18 Degree grip angle for natural point aim. Striker-fired for short and consistent trigger pull every time. Night sights! Ported to reduce recoil and faster second shots!

See full-sized image.
Status:
Coming Soon as of June 23, 2017
Next unit expected in July 2017
Category: Handguns
Brand: Nighthawk Custom - Korth
Keywords: 9 mm, 9mm, Hawk, Korth, Nighthawk, Revolver, Sky, Sky Hawk
Manufacturer SKU: NHK-KORTH SH2 (Manufacturer Link)
Caliber: 9mm
Number of rounds: 6
Barrel length: 2"
Weight: 19.7 oz.
Features: Please read description
Condition: Next unit expected in July
Price: $1,699. Free UPS 2nd Day Air Shipping

Contact us about this product.
SOLD – MORE UNITS COMING THIS YEAR! Nighthawk Custom and Korth have partnered to bring a new level of revolvers to the American market.
The legendary German manufacturer has joined with Nighthawk Custom to create a line of firearms that is sure to change the mindset of many revolver shooters when it comes to:
smoothness
accuracy
dependability
value
The Sky Hawk is a 9mm revolver with 2" barrel requiring no moon clips due to its proprietary ejection system. The fully machined frame and parts fit together and function like a fine Swiss watch. All parts and frame are machined from billet steel and aluminum. The trigger is high polished and the action is like no other compact revolver due to the high level of engineering and attention to detail during the machining and assembly process. Durability and accuracy is unmatched as it should be in a revolver of this stature.
A solid gold front sight bead, Hogue grips, DLC coated frame, and lanyard combine to create the finest concealable revolver on the market today.
The Sky Hawk is built from the finest materials and design available at any price.
SPECIFICATIONS:
Barrel Length: 2"
Weight: 1.23 lb
Overall Length: 6.3"
Width: 1.54"
Height: 5.12"
Finish: Frame is Hard Coated Black. Cylinder is Black DLC Coating
Caliber: 9mm Luger
Frame Material: High Strength 7075 Aluminum
Barrel Material: AISI 4340
PLEASE CLICK PICTURES FOR MORE RESOLUTION!

Next »