THE GUN ROOM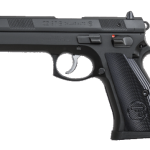 See full-sized image.
Status:
In Stock as of January 26, 2020
Category: Handguns
Brand: CZ - Dan Wesson
Keywords: 45 ACP, 97, 97B, CZ, CZ-75, CZ-97B
Manufacturer SKU: 01411
Caliber: 45 ACP
Number of rounds: 10 + 1
Barrel length: 4.8"
Weight: 40.6 oz.
Features: Doble/single Action without Decocker. Fiber Optic Sight.
Condition: New In Box!
Price: $669 Credit, $656 Cash! $30 Shipping by UPS

Contact us about this product.
BACK IN STOCK! The very hard to get CZ 97 B is the big-bore brother to the CZ 75 B. It is operationally identical to the 75 B (All-Metal, SA/DA, firing pin block safety and magazine brake). Features include a screw-in barrel bushing, loaded chamber indicator and a double-stack magazine holding 10 rounds. This model has a fiber optic front sight and two-dot rear making it great at the range. It come with new thin, black aluminum grips to make it comfortable for even those with smaller hands!
From The Scopesmith: the CZ pistols are the best kept secret on handguns. An evolution of the legendary Browning Hi Power with the same "feel" in the hand but with modern features: double action/single action a great trigger and IS ALL METAL!
Please click pictures for more resolution!