THE GUN ROOM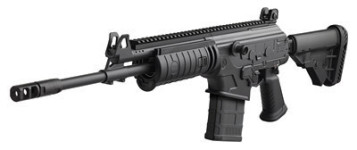 See full-sized image.
Status:
In Stock as of June 23, 2018
Category: Rifles
Brand: IWI
Keywords: 308 Win, 7.62NATO, ACE, Galil, IWI
Manufacturer SKU: GAR1651
Caliber: 308 Win / 7.62 NATO
Number of rounds: 20+1
Barrel length: 16"
Weight: 8 lbs.
Features: Picatinny Rail & Grip Tri-rail. Foldg. Stock. Tritium Sights
Recommended Scope: Aimpoint PRO or Trijicon MRO
Condition: New In Box!
Price: $1,899 Credit, $1,861 Cash! $30 Shipping by UPS

Contact us about this product.
All the virtues of a semi-automatic AK-47 but in the powerful 308/762NATO caliber, high quality of manufacture and solid optics platform! The IWI US Galil ACE is available in 308 Win/7.62NATO with a 16″ barrel and an overall length of 34.5 (with the stock unfolded). The Galil ACE is a modernized version of the fantastic Israeli Galil rifle and has a 2-piece Picatinny rail with adjustable front and rear Tritium night sights. The Tri-Rail forearm system features removable covers, including a protected pressure switch area. The Galil accepts standard AR-10 Magazines. A feature of the IWI US Galil ACE is the new location of the charging handle. It has been moved to the left side enabling the user to maintain control over the rifle while charging and also allows for faster target reacquisition. The safety selector is positioned on both right and left sides.