THE GUN ROOM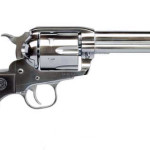 See full-sized image.
Status:
In Stock as of May 30, 2020
Category: Handguns
Brand: Ruger
Keywords: 44 Mag, 44 Spcl, Ruger, TALO, Vaquero
Manufacturer SKU: 10597
Caliber: 44 Mag
Number of rounds: 6
Barrel length: 5.5"
Weight: 40 oz.
Features: Hi Gloss Stainless Steel. Black Micarta grips. TALO
Condition: New in Box
Price: $719 Credit, 705 Cash. $30 Shipping by UPS Air!

Contact us about this product.
New! Ready to become a Cowboy Action, Self-Defense or recreational shooting favorite! Since its introduction in 1993, the Ruger Vaquero has dominated the cowboy action shooting world and earned its reputation for rugged reliability due to its strength and mechanical superiority. This special TALO version is chambered in 44 Magnum or 44 Special providing versatility for self-defense or hunting with the magnum load or low recoil for plinking or Cowboy Action competition with 44 Special loads. Is finished in High-Polish Stainless Steel and has high-quality black Micarta grips!