THE GUN ROOM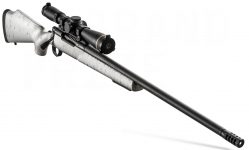 See full-sized image.
Status:
In Stock as of January 24, 2021
Category: Rifles
Brand: Christensen Arms
Keywords: 25th Anniversary, 6.5 PRC, carbon, Christensen Arms, Edition, Limited, Traverse
Manufacturer SKU: CA 801-10022-00
Caliber: 6.5 PRC
Number of rounds: 4+1
Barrel length: 24"
Weight: 7.3 lbs.
Features: Monte Carlo. Carbon Barrel. Threaded with MB. Sub MOA. Rail
Recommended Scope: Nightfforce ATACR or NXS. Swarovski Z8i or X5i
Condition: New in SKB Premium Hard Case!
Price: $2,599 $30 Shipping by UPS Ground!

Contact us about this product.
New Model – One Unit out of a 500 commemorative limited edition in the red hot 6.5 PRC caliber!
The Traverse elevates Christensen Arms backcountry rifle offerings with time-honored styling and performance. The Monte-Carlo carbon fiber composite gunstock gives it a classic feel, while the light target contour Christensen Arms carbon fiber wrapped barrel, stainless steel side-baffle brake, 0-MOA optic rail, and bottom picatinny rail ensure state-of-the-art operation. The Traverse weighs in starting at 7.3 pounds and is backed by the Christensen Arms Sub-MOA Guarantee.
Specifications:
Barrel:
Christensen Arms 416R Stainless Steel Aerograde Carbon Fiber Wrapped Barrel 24 inches 1:8 twist
Stainless Steel Radial Muzzle Brake (Removable) plus Stainless Steel Thread Protector 5/8-42
Match Chamber, Hand Lapped, Button Rifled and Free Floating
Action:
Picatinny Rail
Christensen Arms 416 Stainless Steel Billet
Receiver with Enlarged Ejection Port
Match-Grade Trigger (2.5-3.5 lb)
Billet Aluminum Machined Bottom Metal With Hinged Floor Plate
Improved Bolt Release. Enlarged Bolt Handle.
Internal Magazine, 4 Round Capacity
Bolt:
Twin Lug, Spiral Fluted. Nitride Treated. M16 Style Extractor. Fluted Bolt Knob. Dual Ejector
Stock:
Christensen Arms Carbon Fiber Composite Monte Carlo Style
Modified Beavertail Forearm, Raised Comb, Full Palm Swell with 4″ Bottom Picatinny Rail
Invar Pillars, Spot Bedding, Limbsaver Recoil Pad
Black with Grey Webbing
Special 25th Anniversary Features:
Commemorative Floor Plate.
Commemorative Bolt Knob.
Satin Metallic Stock Color.
Commemorative Challenge Coin.
Commemorative Grip Cap.
Commemorative SKB Rifle Case.
Special Edition Serial Number.
PLEASE CLICK FOR MORE RESOLUTION!