THE SCOPESMITH BLOG
April 2016
Posted: April 21, 2016, 12:01pm
We are all there: we keep our favorite AR as the "self-defense", "tactical", "bug out" or whatever we want to call it. To do that we felt obligated to equip it with a red-dot, a 3 or 4X ACOG or a 1-something scope. The result: it is a cool tactical unit, but in the range we cannot have fun even at 100 yards. The low power magnification prevents us to realize the accuracy potential of the gun and we proudly own the largest groups of the line L
An alternative is to use a regular scope but top it with a Trijicon RMR or Aimpoint T-1/2! With the help of the ringmounts from Nightforce or Badger Ordnance and flush rail-mounted RMRs or T-1/2s we can preserve the immediate target acquisition of a Red Dot while having a "real" scope in our ARs!
Some available accessories (left to right) Nightforce "Ruggedized Platform", Nightforce "Multimount', Aimpoint T-2 with rail mount Trijicon 3.25 MOA RMR with rail mount.
Better pics of the new Nightforce accessories:
Posted: April 20, 2016, 11:40am
Now if you want to enjoy your AR-15 with affordable ammo you don't have to buy Vietnam surplus ammo. Remington UMC just released a new value pack of 300 rounds of 55 grain 223 /5.56 Full Metal Jacket in a handy bucket. Newly manufactured in the USA, clean and accurate. At $119 is less that $8 for the box of 20!
IN STOCK!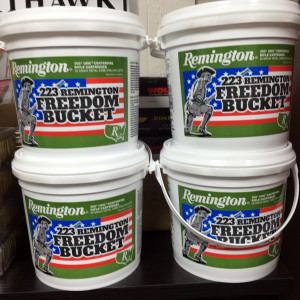 Posted: April 12, 2016, 4:20pm
We are very excited about adding this Blog to the services of our website. We commit to post at least once a week and keep it relevant by using it for new produces announcement, reviews and store offers.
Our first post is about the opportunity to pre-order of the new line of scopes from Swarovski the "Z8i" to be released in June 2016. As the name implies using the Swarovski convention this revolutionary scopes have an 8 times power range between the minimum power and the maximum. Models that we will receive mid-year are:
Z8i 1-8×24 – 4A-IF
Z8i 1-8×24 – BRT-I
Z8i 1.7-13.3×42 – 4A-IF
Z8i 2-16×50 – BRX-I
Z8i 2-16×50 – 4W-I
Z8i 2.3-18×56 – BRX-I
Z8i 2.3-18×56 – 4W-I
The "F" in some of the reticles stands for FLEXCHANGE, the first switchable reticle, to provide you with maximum versatility in every hunting situation.
Another interesting feature of these scopes is their compatibility with the new ballistic turret flex (BTF) an accessory ($259) that can be used as a top or side turret and can be combined with all the available reticles. It can be configured separately and enables you always to stay on target at the desired distances. The BTF can be fitted without using any tool and has a lock mechanism that prevents you from turning it inadvertently.
The scopes will be priced in the $2,400 -$3,100 range and will be in stock in June 2016. Reserve yours!