THE GUN ROOM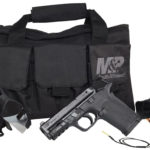 See full-sized image.
New – Special Promotion! Smith & Wesson 131114 M&P 380 Shield EZ 380 ACP with Range Kit – 3.675″ 8+1 Thumb and Grip Safeties – Black Polymer Grip/Frame Grip Black Armornite Stainless Steel
Status:
In Stock as of August 14, 2020
Category: Handguns
Brand: Smith & Wesson
Keywords: 380 ACP, Boundle, EZ, M&P, Range Kit, Smith, Wesson
Manufacturer SKU: 13114 (Manufacturer Link)
Caliber: 380 ACP
Number of rounds: 8+1
Barrel length: 3.675"
Weight: 18.5 oz.
Features: Easy to Rack. Double Safety. Loaded Indicator. Low Recoil.
Condition: New In Kit Package!
Price: $379 Credit. IN STORE ONLY!

Contact us about this product.
A very special offer from Smith & wesson! EASY TO LOAD – VERY SAFE – LOW RECOIL. Built for personal protection and every-day carry, the M&P380 Shield EZ is chambered in 380 Auto and is designed to be easy to use, featuring an easy-to-rack slide , easy-to-load magazine, and easy-to-clean design. Built for personal and home protection, the innovative M&P380 Shield EZ pistol is the latest addition to the M&P M2.0 family and provides an easy-to-use protection option for both first-time shooters and experienced handgunners alike.
Other Features
• Easy to rack slide.
• Crisp, light trigger with tactile and audible trigger reset.
• Includes (2) Easy to Load 8-Round M&P380 Shield magazines.
• Grip safety – grip pistol to fire.
• Windage adjustable, white dot rear sight (tool included).
• Can disassemble without pulling trigger.
• Grip texture optimized to size and recoil.
• Tactile loaded chamber indicator (TLCI) – can see and feel if there is
a round in the chamber.
• Ambidextrous, manual thumb safety.
• Picatinny-style equipment rail for lights or lasers.
• Perfect size for nightstand or carry, or a day at the range.
• Reversible magazine release.
• Thin and lightweight – can be comfortably carried all day.
• Optimal 18-degree grip angle for natural point of aim.
• Armornite® durable corrosion resistant finish.
THIS ESPECIAL BOUNDLE ALSO INCLUDES:
M&P® PRO TAC SINGLE HANDGUN CASE
Double Zipper Opening
2 External Zippered Pockets: 6"W x 6"H x 1"D
3 Double Pistol Mag Pouches
External Dimensions: 14.5"W x 8"H x 3"D
M&P®PASSIVE HEARING PROTECTION
33 Noise Reduction
Ultra Lightweight
Compact Folding Design
M&P®SUPER COBRA HALF FRAME GLASSES
Clear Mirror Lenses
Hard Zippered Storage Case with Microfiber Cloth
Non-Slip Rubber Nose and Ear Pieces
Rubberized Non-Reflective Frame Coating
PULL-THROUGH CLEANER
380 AUTO/9mm Bore Size
Easy and Quick to Use – Simply Pull Through
Your Bore for a Quick Clean!
PLEASE CLICK ON PICTURES FOR MORE RESOLUTION!