THE GUN ROOM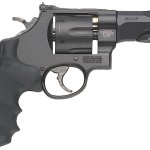 See full-sized image.
New! Smith & Wesson 170316 Model 325 Thunder Ranch Performance Center 45 ACP 4″ 6rd Synthetic Grip Scandium Frame Stainless Cylinder Matte Black Tactical Rail
Status:
In Stock as of August 14, 2020
Category: Handguns
Brand: Smith & Wesson
Keywords: 45 ACP, Center, Performance, Ranch, Revolver, Smith, Thunder, Wesson
Manufacturer SKU: 170316
Caliber: 45 ACP
Number of rounds: 6
Barrel length: 4"
Weight: 31 oz.
Features: Black Scandium/ Stainless Steel. Tactical Rail. Adj. Sight.
Condition: New In Box with Thunder Ranch Soft Case and DVD!
Price: $1,219 credit, $1,195 cash! $30 Shipping UPS Air

Contact us about this product.
Who said that revolver lovers could not benefit from new technologies? The Thunder Ranch is available in the hard hitting and affordable 45 ACP and features single /double action, 4″ barrel, interchangeable gold bead front sight, adjustable white outline rear sight, synthetic grip, Scandium Alloy frame, stainless cylinder and matte black finish. Also the Thunder Ranch Defense revolver can handle .45 ACP ammunition in either full or half moon clips and .45 Auto Rim ammunition in speed loaders. It is equipped with a removable Picatinny rail under the barrel, and has the Thunder Ranch logo etched into the frame. Thunder Ranch gun bag and defensive revolver DVD are included!
PLEASE CLICK ON PICTURES FOR MORE RESOLUTION!