THE GUN ROOM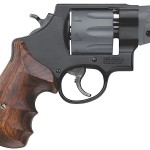 See full-sized image.
Back in Stock! Smith & Wesson 170245 Mod 327 Performance Center 357 Mag 2″ 8 rounds Wood Grip Black Finish
Status:
In Stock as of August 14, 2020
Category: Handguns
Brand: Smith & Wesson
Keywords: 357Mag, Center, Performance, Revolver, Smith, Wesson
Manufacturer SKU: 170245
Caliber: 357 Magnum
Number of rounds: 8
Barrel length: 2"
Weight: 21 oz.
Features: 8 Rounds! Wood Grips. Lightweight.
Condition: New In Box!
Price: $1,219 credit, $1,195 cash! $30 Shipng by UPS Air

Contact us about this product.
BACK IN STOCK! Our best-seller Performance Center gun and one of the hardest to get! Eight rounds of the powerful 357 Magnum Cartridge in a lightweight frame and beautiful but very practical wood grips! When serious collectors and demanding shooters want the very best handguns, they turn to Smith & Wesson's Performance Center. Known the world over for their unique design and uncompromising quality, Smith & Wesson's master gunsmiths built the Model 327 from the ground up-combining old world hand craftsmanship with modern technology to create an extremely accurate, high performance model designed for the most demanding shooters.