THE GUN ROOM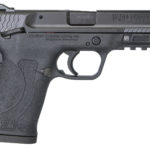 See full-sized image.
Back in Stock! Smith & Wesson 11663 M&P 380 Shield EZ Double 380 Automatic Colt Pistol (ACP) 3.675″ 8+1 Black Polymer Grip/Frame Grip Black Armornite Stainless Steel
Status:
In Stock as of August 19, 2022
Category: Handguns
Brand: Smith & Wesson
Keywords: 380 ACP, EZ, M&P, Smith, Wesson
Manufacturer SKU: 11663
Caliber: 380 ACP
Number of rounds: 8+1
Barrel length: 3.675"
Weight: 18.5 oz.
Features: Easy to Rack. Double Safety. Loaded Indicator. Low Recoil.
Condition: New In Box!
Price: $399 Credit, $391 Cash! $30 Shipping UPS Air

Contact us about this product.
NOTE: ALL OUR GUNS FOR SALE ARE NOT SUBJECT TO THE RECENT S&W EZ RECALL!
A very special gun made with a specific customer in mind. EASY TO LOAD – VERY SAFE – LOW RECOIL. Built for personal protection and every-day carry, the M&P380 Shield EZ is chambered in 380 Auto and is designed to be easy to use. It features an easy-to-rack slide, easy-to-load magazine, and easy-to-clean design. Built for personal and home protection, the innovative M&P380 Shield EZ pistol is the latest addition to the M&P M2.0 family and provides an easy-to-use protection option for both first-time shooters and experienced handgunners alike. It has a polymer grip/frame, reversible magazine release, Tactile Loaded Chamber Indicator, and grip safety. The M&P 380 Shield EZ includes two, easy-to-load, 8-round M&P380 Shield magazines. This model has an ambidextrous, manual thumb safety.