THE GUN ROOM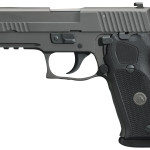 See full-sized image.
New Model – Back in Stock! Sig Sauer 220R LEGION 45 ACP SA/DA, 8+1, 4.4 inches, Legion Gray Cerakote Finish, X-Ray Night Sights, Tactical Rail – P-SAIT trigger – 3 Magazines
Status:
In Stock as of December 11, 2019
Category: Handguns
Brand: Sig Sauer
Keywords: 220, 45 ACP, DA/SA, Legion, P-SAIT, P220, Sauer, Sig
Manufacturer SKU: 220R45LEGION
Caliber: 45 ACP
Number of rounds: 8+1
Barrel length: 4.4"
Weight: 30.4 oz.
Features: Grey Coating. Rail. Night Sights. DA/SA w/decocker. P-SAIT
Condition: New In Box
Price: $1,179 credit, $1,155 cash! $30 Shipping UPS Air

Contact us about this product.
NEW ADDITION TO THE SUCCESSFUL LEGION LINE! We love our 1911s but the practicality of the Double Action / Single Action brought the 45 ACP back to the modern day with the great Sig 220 design. Now in the premium "LEGION" version the 220 is better than ever! The new Sig P220 Legion features an alloy frame and a stainless steel slide with a Legion gray finish. It also has Sig's X-Ray3 day/night fiber optic sights, black G10 custom grips with a Legion medallion, and a P-SAIT trigger (see below). It includes three 8-round magazines.
*More about the P-SAIT trigger:
The adjustable Intermediate Trigger (P-SAIT) adds easy over travel adjustability to its short reset. Utterly indestructible, the P-SAIT is machined from tough alloy steel, carefully heat treated and finished in black oxide. Tight pin hole tolerances assure smooth, solid function. It optimizes both SA and DA control for optimal control, and is far more comfortable than the factory short trigger it replaces. The P-SAIT is guaranteed for life against defects in materials or workmanship.