THE GUN ROOM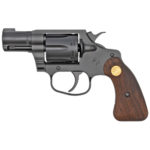 See full-sized image.
New Model – Only One Unit! COLT COBRA SPECIAL REVOLVER 38 Special, 2″ Barrel, Steel Frame, Black PVD Finish, 6Rd, Brass Bead Front Sight, Retro Wood Grips with Colt Medallion
Status:
In Stock as of August 14, 2020
Category: Handguns
Brand: Colt
Keywords: 38 Special, 38 Spl, 38 Spl+P, Cobra, Colt, Revolver
Manufacturer SKU: COBRA-MB2WBB
Caliber: 38 SPL or 38 SPL +P
Number of rounds: 6
Barrel length: 2"
Weight: 25 oz.
Features: Black Coated. Brass Bead Sight. Walnut Medallion Grips
Condition: New In Box
Price: $789 Credit, $773 Cash! $30 Shipping UPS Air

Contact us about this product.
FINALLY THE COBRA IN THE 'RETRO' LOOK THAT WE ALL MISSED! The Colt Cobra® marks Colt's triumphant return to the world of double-action revolvers. This special model takes back Colt's heritage of delivering a classic 38 revolver. A shooter as well as a showpiece, the Cobra Special is chambered in .38 Special and is +P capable. The Walnut Retro Medallion grips and Brass Bead front sight help make it easy and enjoyable to shoot.
PLEASE CLICK ON PICTURES FOR MORE RESOLUTION!