THE GUN ROOM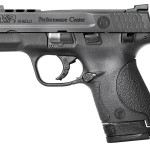 See full-sized image.
New Model – Now with Night Sights! Smith & Wesson Performance Center M&P9 SHIELD PORTED 11630 9mm 3.75″ 7&8rd Magazines – Night Sights – Black
Status:
In Stock as of April 25, 2018
Category: Handguns
Brand: Smith & Wesson
Keywords: 9mm, Center, M&P, Performance, Pistol, Ported, Shield, Smith, Wesson
Manufacturer SKU: 11630
Caliber: 9mm
Number of rounds: 7+1 or 8+1
Barrel length: 3.75"
Weight: 20 oz.
Features: PORTED. Night Sights. Flush and Extended Magazines!
Condition: New In Box
Price: $539 credit. $$528 cash $30 Shipping!

Contact us about this product.
The top of the line of the Shield line now with Night Sights! From the cover of all gun magazines to your pocket! America's favorite compact gun now tuned and improved by Smith & Wesson Performance Center!
Incorporates the design features of the highly successful M&P line of firearms. Extremely thin and lightweight design means that it can be comfortably carried all day. Single sided thumb safety and slide stop maximize slimness. M&P's patented take down lever and sear deactivation system allows for disassembly without pulling the trigger. Chambered in 9mm for proven stopping power. Includes 2 magazines, one with extended capacity for a full grip. 18 Degree grip angle for natural point aim. Striker-fired for short and consistent trigger pull every time. Night sights! Ported to reduce recoil and faster second shots!