THE GUN ROOM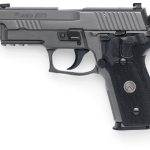 See full-sized image.
Back in Stock! SIG P229 LEGION – 3.9in – DA/SA – 40 S&W – 12 Rounds – 3 Mags – High Visibility Day/Night Sights – Custom G10 Grips – Rail
Status:
Coming Soon as of December 11, 2019
Arriving Friday 6/3/16!
Category: Handguns
Brand: Sig Sauer
Keywords: 229, 40 S&W, Legion, P229, Sauer, Sig, Sig Sauer
Manufacturer SKU: E29R-40-LEGION (Manufacturer Link)
Caliber: 40 S&W
Number of rounds: 12+1
Barrel length: 3.9"
Weight: 29.5 oz.
Features: Please read description!
Condition: New In Box!
Price: $1,159 credit, $1,136 cash! $30 Shipping!

Contact us about this product.
The most popular Pistol of Sig Sauer, now enhanced in a new – just released series that has it all!
Sig Sauer's Legion series has a Legion Gray PVD finish on the slide and frame which has a reduced and contoured elite beavertail and is relieved under the trigger guard (XFIVE Contour). Legion also has enhanced checkering on front strap and under trigger guard, low-profile slide catch and decocking levers, and custom, high checkered G-10 grips. The Legion series features GRAYGUNS Intermediate Reach Adjustable Trigger, enhanced action with SRT, a solid steel guide rod, and is topped off with Sig Sauer Electro-Optics X-Ray3 High Visibility Day/Night Sights.
KEY FEATURES:
• LEGION Gray PVD Finish on Slide and Frame
• Reduced and Contoured Elite Beavertail
• Frame Relieved Under Trigger Guard (XFIVE™ Contour)
• Custom High Checkered G-10 Grips
• GRAYGUNS Intermediate Reach Adjustable Trigger
• Enhanced Action with SRT
• Low-Profile Slide Catch and Decocking Levers
• Solid Steel Guide Rod
• Enhanced Checkering on Front Strap and Under Trigger Guard
• SIG SAUER® Electro-Optics X-RAY3™ High Visibility Day/Night Sights