THE GUN ROOM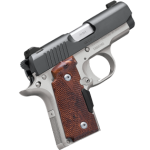 See full-sized image.
New – Just Released! Kimber MICRO9 – Crimson Carry 9mm 6+1 – Rosewood Crimson Carry LaserGrip
Status:
In Stock as of January 24, 2021
Category: Handguns
Brand: Kimber
Keywords: 9mm, Crimson, Kimber, laser, LaserGrip, Micro, Micro 9, Micro9
Manufacturer SKU: 3300101 (Manufacturer Link)
Caliber: 9 mm
Number of rounds: 6+1
Barrel length: 3.15"
Weight: 15.6 oz.
Features: Rosewood Crimson Carry Laser Grip!
Condition: New In Box!
Price: $779 Credit! $30 Shipping by UPS Air!

Contact us about this product.
Released in the 2016 SHOT/NRA shows and finally arriving! The NEW Kimber MICRO9, just slightly bigger that the legendary Micro 380!  Micro 9 slides are made to the tightest allowable tolerances, with barrels machined from stainless steel for superior resistance to moisture. All Micro 9 frames are shaped from the finest aluminum for integrity and strength. In many respects a miniature 1911, among the most important Micro 9 design advantages is a single action trigger with the kind of short, smooth pull that ensures accuracy and builds confidence. The thumb safety, slide release and magazine release are pure 1911 as well. Standard features include a lowered and flared ejection port for flawless ejection and a beveled magazine well for fast, positive loading. Sights are steel – not plastic – and mounted in machined dovetails for additional integrity. Each Micro 9 includes a flush-fitting 6-round magazine and an extended 7-round magazine is available as an accessory. THIS MODEL INCLUDES A ROSEWOOD GRIP WITH CRIMSON CARRY LASER!
Ideal for shooters with small hands as well as those who insist on mild recoil combined with enough power for concealed carry or home protection, Micro 9 pistols are the right choice for many applications. Best of all, they offer unequaled Kimber quality, dependability and performance.