THE GUN ROOM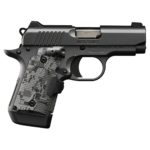 See full-sized image.
New for 2018! Kimber Micro9 COVERT – 9mm – Laser Grips – Night Sights – 7+1
Status:
In Stock as of September 17, 2019
Category: Handguns
Brand: Kimber
Keywords: Covert, Kimber, LaserGrip, Micro 9, Micro9, Night Sights
Manufacturer SKU: 3300187 (Manufacturer Link)
Caliber: 9mm
Number of rounds: 7+1
Barrel length: 3.15"
Weight: 16 oz.
Features: Laser Grips. Night Sights. 7 Round magazine.
Condition: New in Box!
Price: $849 Credit, $30 Shipping by UPS 2nd Day Air!

Contact us about this product.
New – all business/no compromises – addition to the Micro9 line!
Covert pistols are the perfect combination of lightweight and meaningful features, such as Crimson Trace Lasergrips, 30 lines-per-inch front strap checkering and special Carry Melt treatment and Urban camouflage Crimson Trace Lasergrips.
Ideal for shooters who insist on mild recoil combined with enough power for concealed carry or home protection, Micro 9 pistols are the right choice for many applications. Best of all, they offer unequaled Kimber quality, dependability and performance.
PLEASE CLICK PICTURES FOR MORE RESOLUTION!