THE GUN ROOM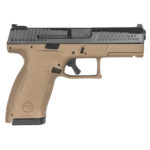 See full-sized image.
New! CZ 91532 P-10C Compact 9mm Striker Fired 4.02″ 15+1 with Rail and Night Sights Nitride Back Slide/FDE Polymer Frame – Interchangeable Grips – 2 Mags
Status:
In Stock as of December 11, 2019
Category: Handguns
Brand: CZ - Dan Wesson
Keywords: 9mm, compact, CZ, CZ P-10C, CZ P10, CZ P10 C
Manufacturer SKU: 91532
Caliber: 9mm
Number of rounds: 15 + 1
Barrel length: 4.02"
Weight: 26 oz.
Features: Striker. Night Sights. Rail. 15+1
Condition: New In Box!
Price: $499 Credit, $489 Cash! $30 Shipping by UPS

Contact us about this product.
New CZ P-10 C (Compact):
With CZ reliability, engineered ergonomics and loaded with features both familiar and new, the P-10 C is the complete package. The CZ grip angle, helps the P-10 C avoids that 'brick-in-the-hand' feeling that has plagued many in the striker-fired genre, allowing it to point naturally. A mild palm swell, deep beavertail and three interchangeable backstraps make the P-10 fit a wide variety of hands. The P-10 C's trigger is designed to minimize creep and stacking, and after initial break-in averages a clean 4.5-5 lb. pull and rebounds with a short, positive reset – meaning single shots can be meticulously placed while follow-ups are effortless. Built to withstand the rigors of military use, its fiber-reinforced polymer frame and hardy nitride finish are made for the daily grind. A generous trigger guard allows use with gloved hands while being undercut to allow as high a grip as possible, and a set of metal tactical sights allow for one-handed manipulation of the slide on a belt. Like all CZ pistols, the P-10C is built with CZ's legendary cold hammer forged barrel. The 'C' in the name indicates that it is compact in both frame and slide size, and magazines are of the same family as the hammer-fired P-07, meaning the P-10 C holds 15+1 in 9mm in a flush-fitting mag with extended bases allowing 17+1. Take-down of the P-10 C will be familiar to most fans of striker-fired guns, and even more pleasing will be holster compatibility with some of the most common guns on the market.