THE GUN ROOM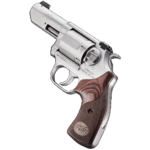 See full-sized image.
New 2019 SHOT Show Product – Released April 2019! Kimber K6S DASA Revolver (Double Action/Single Action) 3 inches – 357 Magnum – Brushed Stainless Steel – Walnut Grips
Status:
In Stock as of July 21, 2019
Category: Handguns
Brand: Kimber
Keywords: 357 Mag, 38 Spl, DA/SA, K6s, Kimber, Revolver, stainless
Manufacturer SKU: 3400016 (Manufacturer Link)
Caliber: 357 Magnum / 38 Spl
Number of rounds: 6
Barrel length: 3"
Weight: 25.1 oz.
Features: Stainless Steel. Double Action / Single Action. Walnut Grips
Condition: New In Box!
Price: $839 Credit! $30 Shipping by UPS Air!

Contact us about this product.
New 2019 SHOT Show Product – Just Released! The K6s Double Action/Single Action (DASA) is next evolution of the Kimber revolver product line that takes the acclaimed K6s system and outfits it with a double and single action trigger mechanism. The platform maintains the benefits of the original K6s such as the outstanding double action trigger pull, compact envelope, and six shot capacity but with the added advantage of a hammer and a single action trigger. This version in 357 Magnum / 38 Special has a 3-inch barrel all Stainless Steel with Brushed Stainless finish 3-dot Sights, Serrated Backstrap and Walnut Boot Grip with Diamond Checkering!