THE GUN ROOM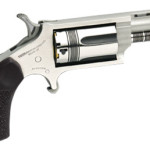 See full-sized image.
NAA 22MTW Wasp 22 Mag 1.63″ 5rd Fixed Sights Black Rubber Grip Stainless Steel
Status:
In Stock as of September 21, 2020
Category: Handguns
Brand: NAA
Keywords: 22 Mag, NAA, Wasp
Manufacturer SKU: 22MTW (Manufacturer Link)
Caliber: 22 Magnum
Number of rounds: 5
Barrel length: 1 5/8"
Weight: 7.2 oz.
Features: Stainless. Wasp Vent Bar.
Condition: New In Box
Price: $239 credit, $234 cash

Contact us about this product.
The Wasp 22 Magnum mini-revolver has a vent bar and can be used with all popular .22 Magnum ammunition, including .22 Magnum shot shells (called Snake Shot by some manufacturers). The Wasp has black pebble-textured rubber grips and fixed bead front sight. It is lightweight and has a 5-shot capacity, making this a great little concealed carry pocket gun. Using the half-way notch cylinder, the hammer may rest safely and securely away from live or empty chambers without chance of accidental discharge.