THE GUN ROOM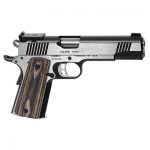 See full-sized image.
Kimber ECLIPSE TARGET II – 38 SUPER AUTO 7+1 Stainless Steel with Polished Flats – Match Grade – Target Sights
Status:
In Stock as of March 8, 2021
Category: Handguns
Brand: Kimber
Keywords: 38 Super, Eclipse, Kimber, Target, Target II, Ultra
Manufacturer SKU: 3200297
Caliber: 38 SUPER
Number of rounds: 7+1
Barrel length: 5"
Weight: 38 oz.
Features: Full Stainless Steel with polished flats. Target Sights!
Condition: New Ib Box!
Price: $1,279 Credit $1,253 Cash $30 Shipping by UPS Air

Contact us about this product.
WE NOTICED WE HAD NEVER POSTED THIS BEAUTY! Elegance. Hard to define but easy to recognize, elegance is a true measure of quality. Kimber Eclipse pistols have a brushpolished finish over a stainless steel slide and frame, both accented with black small parts. More importantly, they perform as good as they look—and that is a bold statement. They mean business. The Kimber Eclipse 1911 is not just designed for its looks but also its performance. The Eclipse with its stainless steel slide and frame with a brush-polished finish, small black accents, match grade barrel, match grade trigger, polished breech faces, adjustable sight, and a checkered slide and magazine release. Beautiful and bold in appearance and performance, the Eclipse II makes a statement.
Features
Stainless polished flats frame
Matte black small parts, including the beavertail grip safety
Premium Aluminum trigger
Trigger is factory set to 4.0-5.0lb pull
Black and gray Cyclone G-10 grips
30 lines-per-inch checkering on the front strap and mainspring housing
Full length guide rod
Stainless steel match grade bushing
Specifications
Caliber:. 38 Super ACP
Weight: 38oz with empty magazine
Action: Single Action Only Semi-Automatic
Safety: Traditional 1911 beaver tail and thumb safety
Sights: Meprolight Tritium bar-dot night sight, adjustable
Magazines Included: 1 Magazine
Magazine Capacity: 7+1
Grips: Laminated double diamond
Barrel Length: 5″ match grade steel barrel
Slide Finish: Stainless steel brush polished flats
Frame Finish: Stainless steel brush polished flats
Pistol Night Sights: Yes
UPC 669278322971
SKU 3200297
PLEASE CLICK ON PICTURES FOR MORE RESOLUTION!