THE GUN ROOM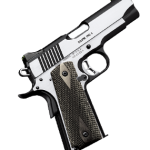 See full-sized image.
Kimber Eclipse PRO II – 45 ACP
Status:
In Stock as of July 14, 2020
Category: Handguns
Brand: Kimber
Keywords: 45 ACP, Eclipse, Kimber, Pro
Manufacturer SKU: 3200035 (Manufacturer Link)
Caliber: 45 ACP
Number of rounds: 8+1
Barrel length: 4"
Weight: 35 oz.
Features: Night Sights. Polished Stainless Steel.
Condition: New In Box!
Price: Please Call

Contact us about this product.
BACK IN STOCK!!! Elegance. Hard to define but easy to recognize, elegance is a true measure of quality. Arguably the nicest looking production Kimber. Kimber Eclipse pistols have a brushpolished finish over a stainless steel slide and frame, both accented with black small parts. More importantly, they perform as good as they look—and that is a bold statement. This version the Kimber Eclipse Pro II has a A 4-inch bull barrel combined with a full-size stainless steel frame for an ideal combination of size and weight!
The true beauty of Eclipse pistols is in their performance. Match grade barrels and triggers ensure the level of accuracy that made Kimber the world's most popular 1911. All are chambered in .45 ACP. Breech faces are polished for dependable feeding, and slide and magazine releases are checkered for fast, reliable operation. Performance never looked this good.