THE GUN ROOM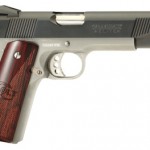 See full-sized image.
Back in Stock! Colt Combat Elite 45 ACP 5″ Blue/SS Finish Rosewood Grips
Status:
In Stock as of August 14, 2020
Category: Handguns
Brand: Colt
Keywords: 45ACP, Colt, Pistol
Manufacturer SKU: 08011XSE (Manufacturer Link)
Caliber: 45 ACP
Number of rounds: 8+1
Barrel length: 5"
Weight: 38 oz.
Features: Ambidextrous safety
Condition: New In Box
Price: $1,039 credit, $1018 cash! $30 Shipping by UPS Air

Contact us about this product.
Once again, Colt returns to its roots. Where quality and workmanship are demanded, Colt continues to exceed its customer's expectations. This classic pistol is built with exciting features desired by the combat-style match shooter, along with the quality and reliability they demand. A great addition for any collector or avid shooter, features include half checkered and half smooth rosewood grips embossed with the Colt logo, a Colt Upswept Beavertail Grip Safety with Palm Swell, a Colt Single Side Tactical Safety Lock, a National Match® Barrel, Novak® sights and other standard features of the XSE Series. The heart and soul of the Combat Elite pistol is still derived from its forged steel receiver, forged steel slide, forged stainless steel barrel and forged steel slide stop.