THE GUN ROOM
Rifles: Seekins Precision


See full-sized image.
Status:
In Stock as of February 23, 2018
Category: Rifles
Brand: Seekins Precision
Keywords: 308 Win, 308; threaded, HAVAK, McMillan, Seekins, Timney
Manufacturer SKU: 11710007 (Manufacturer Link)
Caliber: 308 Winchester
Number of rounds: 4+1
Barrel length: 24"
Weight: 7.3 lbs.
Features: Stainless, Fluted and Threaded barrel. McMillan Stk, Timney
Recommended Scope: Swarovski X5 or Z8, Nightforce NSX or SHV
Condition: New In Box
Price: $1,979 Credit, $1,939 Cash. $30 Shipping by UPS

Contact us about this product.
A rifle with all the characteristic of a custom build with stock price! The Seekins Havak has arrived. With its bead blasted finish and spiral fluting this rifle is ready to meet all of your precision shooting requirements.
The action has 4 locking lugs with 90 degree bolt throw. The lugs are oriented so that when locked in battery they are oriented at 3 and 9 o'clock. This is different from the typical placement at 12 and 6 o'clock positioning that places the bottom lug directly behind the feed ramp where there is very little material in the action. This allows for a generous feed ramp and situates the lugs in the strongest area of the action.
Every rifle is hand bedded with the pillars flush mounted and perfectly paired to its action. They come with a flush mounted detachable magazine system. The barrels are properly free floated and each rifle is test fired for accuracy with factory match ammo.
USA certified pre-hardened stainless action and bolt body
4 locking lugs with 90 degree bolt throw
Bead blasted finish
Spiral fluted barrel and bolt body
Proprietary tool steel bolt and breech plug with anti-galling properties
Removable bolt head (Magnum or Standard)
5 /16 threaded and removable bolt knob
Full diameter bolt body for smooth bolt operation
Integrated recoil lug as well as a lug for top Picatinny rail
20 MOA Picatinny Rail with (5) 8-32 screws
REM 700 short action stock inlet and trigger pattern
Helical Extraction Cam
M16 style extractor
24″ stainless 5r match grade barrel – spiral fluted
308 Winchester chambering
Threaded muzzle (5/8 x 24) with thread protector
Timney adjustable trigger – factory set at 3 lbs.
McMillan Game Warden stock with 2 QD sling points and one bi-pod stud
Detachable magazine system – hunting version with flush mounting
PLEASE CLICK PICTURES FOR MORE RESOLUTION!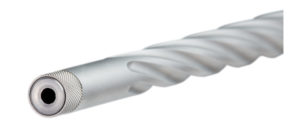 See full-sized image.
Status:
In Stock as of February 23, 2018
Category: Rifles
Brand: Seekins Precision
Keywords: 6.5 Creedmoor, Precision, Seekins, semiauto, SP10
Manufacturer SKU: 11320001 (Manufacturer Link)
Caliber: 6.5 Creedmoor
Number of rounds: 20+1
Barrel length: 22"
Weight: 10.5 lbs.
Features: Semi-Automatic. All Match specs.
Recommended Scope: Nightforce ATACR 5-25x56 or Schmidt and Bender 5-25x56 P4F
Condition: New in Box!
Price: $2.449 Credit, $2,400 Cash! $30 Shipping by UPS

Contact us about this product.
First Semi-Automatic in the caliber that is taking the market by Storm! Seekins Precision proudly introduces the SP10 6.5 Creedmoor rifle. The SP10 offers the best features and components available on the market today. Designed by shooters, the SP10 offers extreme accuracy, full ambidextrous controls, billet aluminum construction. Featuring Seekins performance proven SP3R hand guard, 22" match grade barrel, Rifle Length Gas System, 3.5lb single stage trigger and Seekins superb ATC brake making the SP10 the perfect 6.5 Creedmoor AR platform for hunting and competition use.
Based on the excellent and proven iRMT upper receiver, CNC machined from 7075-T6 billet aluminum, the top Picatinny rail extends over the barrel mount to strengthen the receiver and provide more space to mount optics. Coupled with the receiver is the Seekins Precision SP3R free float handguard. Flat on the bottom, the SP3R aids stability for precision shooting. The stainless steel match-grade barrel with the Rifle length gas system is specifically contoured to balance the rifle for superior handling performance and weight reduction. The Seekins Precision mission of unrivaled innovation and performance drove the development of the lower receiver. Also machined from 7075-T6 billet aluminum, the SP10 6.5 Creedmoor is fully ambidextrous due to superior weapon controls such as the magazine release, selector switch and ambidextrous bolt switch that allows the shooter to lock back or release the bolt with a single finger. Accuracy demands an excellent trigger and the SP10 6.5 Creedmoor delivers with a 3.5 tuned fire control that guarantees out of the box performance. It is fitted with a Magpul PRS stock. The SP10 6.5 Creedmoor is the pinnacle of large frame AR development. Premium features and components come standard to increase accuracy, functionality and reliability. The SP10 6.5 Creedmoor is hard coat anodized matte black.