THE GUN ROOM
Rifles: Ruger

See full-sized image.
Status:
In Stock as of December 1, 2020
Category: Rifles
Brand: Ruger
Keywords: 223 Rem, 5.56 NATO, Ghillie Green, Mini-14, Ruger, Tactical
Manufacturer SKU: 5877
Caliber: 223 Rem / 5.56 NATO
Number of rounds: 5+1 (30+1 Available)
Barrel length: 18.5"
Weight: 7 lbs.
Features: Stainless Steel.Garand style stock & sights. Synthetic Stock
Recommended Scope: Provided sights or low/mid power Nightforce or Swarovski
Condition: New in Box
Price: $929 Credit, $910 Cash! $30 Shipping by UPS

Contact us about this product.
The newest model of the successful Mini-14 Family!
The Mini-14 Ranch rifle offers inherent accuracy, light weight, low recoil, and a quick repeat shot capability that makes them the favorite of ranchers and outdoorsmen. Their simple, Garand style action allows for unparalleled reliability and a cold hammer forged barrel results in exceptional accuracy and longevity. This new 2020 model has a Hougue Overmolded Ghillie Green Stock is finished in a resistant black oxide tone and includes scope rings and two 5+1 magazines (30+1 Available)
Specifications of the Model 5877:
Specifications
Caliber
223 Rem / 5.56 NATO
Capacity
5 Rounds – 2 magazines
Stock
Overmolded Ghillie Green
Finish
Blued (Black Oxide)
Rear Sight
Adjustable
Front Sight
Blade
Barrel Length
18.50″
Overall Length
38″
Material
Alloy Steel
Length of Pull
13.50″
Weight
7 lbs.
Grooves
6
Twist
1:9″ RH

See full-sized image.
Status:
In Stock as of December 1, 2020
Category: Rifles
Brand: Ruger
Keywords: 308, 308 Win, 308 Winchester, AI Magazins, American, Bronze, cammo, Go Wild, Ruger, threaded
Manufacturer SKU: 26926 (Manufacturer Link)
Caliber: 308 Winchester
Number of rounds: 3+1
Barrel length: 22"
Weight: 6.6 lbs.
Features: Picatinny Rail. Threaded. Marksman Adj. Trigger. AI style mg
Recommended Scope: Swarovski Z3 or Z5. Nightforce SHV
Condition: New In Box
Price: $569 credit $ 558 cash! $30 Shipping by UPS!

Contact us about this product.
A stunning Limited Production of the best value 308 Winchester: Go Wild Cammo, Cerakote Bronze barrel/receiver and AI compatible magazines!
Ergonomic, lightweight synthetic stock designed for quick, easy handling blends a classic look with modern forend contouring and grip serrations.
Ruger Marksman Adjustable™ trigger offers a crisp release with a pull weight that is user adjustable between 3 and 5 pounds, allowing shooters to make that perfect shot.
The one-piece, three-lug bolt with 70° throw provides ample scope clearance and utilizes a full diameter bolt body and dual cocking cams for smooth, easy cycling from the shoulder.
Patent-pending Power Bedding®, integral bedding block system positively locates the receiver and free-floats the barrel for outstanding accuracy.
Offers minute-of-angle accuracy that can make every hunt a success.
Heavier tapered, threaded barrel is cold hammer-forged, resulting in ultra-precise rifling that provides exceptional accuracy, longevity and easy cleaning.
Features a visible, accessible and easy-to-actuate tang safety that provides instant security.
Soft rubber buttpad is crafted for maximum recoil reduction.
Factory-Installed One-Piece Aluminum Scope Rail
Also includes – AI Style magazine; sling swivel studs.
Other Features:
Stock Go Wild Cammo pattern
Magazine AI-Style 3+1. The new standard in short action bolt rifles readily available in high capacity/low price from Magpul.
Sights None – Scope Rail Installed
Barrel Length 22″
Material Alloy Steel
Thread Pattern 5/8″-24
Finish Cerakote Bronze
Weight 6.6 lb.
Twist 1:10″ RH
Overall Length 42″
Length of Pull 13.75″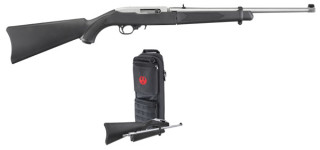 See full-sized image.
Status:
In Stock as of December 1, 2020
Category: Rifles
Brand: Ruger
Keywords: 10/22, 22LR, Ruger, Takedown
Manufacturer SKU: 11100 (Manufacturer Link)
Caliber: 22 LR
Number of rounds: 10+1 or 25+1
Barrel length: 18.5"
Weight: 4.6 lbs.
Features: Backpack. Stainless steel.
Recommended Scope: Nikon P-22
Condition: New In Backpack
Price: $389 credit, $381 cash $30 Shipping by UPS

Contact us about this product.
Back in Stock! The stainless 10/22 in the takedown with a carry case!
FEATURES:
Easy takedown enables quick separation of the barrel from the action for ease of transportation and storage. Takedown is as simple as locking the bolt back and verifying that the rifle is unloaded, pushing a recessed lever, twisting the subassemblies and pulling them apart.
Simple reassembly allows for a secure connection of the barrel and action and returns the firearm to zero, even when receiver-mounted optics are used, ensuring consistent accuracy, shot after shot.
This legendary action is a tried and true Ruger design that ensures consistent, reliable performance.
Detachable 10-round rotary magazine features a unique rotor to separate cartridges and provide reliable feeding.
Easy-to-use, prominent magazine release provides smooth, no-fuss removal of flush-mounted magazine.
Precision-rifled, cold hammer-forged barrel.
Positive, push-button, cross-bolt manual safety.
Combination scope base adapter for both Weaver-style and .22 tip-off scope mounts included.
Heat-stabilized, glass-filled, polymer trigger housing assembly is precision made of high-tech material for improved manufacturing tolerances, impact and abrasion-resistance and an unmatched ability to withstand the elements.
The receiver and stock combine to create classic lines for attractive styling.Also includes: convenient carry-case.
Next »