THE GUN ROOM
Rifles: Noveske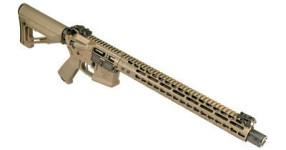 See full-sized image.
Status:
In Stock as of April 8, 2020
Category: Rifles
Brand: Noveske
Keywords: 223, Gen 3, Infidel, Noverke
Manufacturer SKU: G3R-137-556-N-FDE (Manufacturer Link)
Caliber: 223 Rem/556 NATO
Number of rounds: 30+1
Barrel length: 13.7"
Weight: 7.3 lbs.
Features: Please Read Specs!
Recommended Scope: Aimpoint or Trijicon
Condition: New In Box!
Price: $2,579 credit, $2,527 cash! $30 Shipping

Contact us about this product.
Shortest Class I (no SPR paperwork) rifle you can own with the top-notch quality and reliability of Noveske!
Specs:
Barrel
     Length– 13.7", Stainless Steel, 1/7 Polygonal Twist , KX5 pinned, OAL 16″
     Gas Block– Lo-Pro, .750, pinned to barrel
Barrel Extension w/extended feed ramps
Upper Receiver
     Model– Gen III precision machined billet receiver from 7075-T6 w/extended feed ramps
featuring anti-rotation interface with handguard
     Finish– Hardcoat type III anodizing, with Cerakote ceramic coating (FDE)
for ultimate finish and performance
     Charging Handle– Raptor ambidextrous
Shot peened & MP tested bolt
Auto carrier w/staked carrier key
Lower Receiver
     Model– Gen III precision machined billet receiver from 7075-T6
     Finish– Hardcoat type III anodizing, with Cerakote ceramic coating (Black)
for ultimate finish and performance
     Trigger– ALG Defense ACT
     Extension– Mil-spec 6 position receiver extension
Staked Noveske QD End Plate
Handguard 
NSR-15" Free floating handguard w/1913 top rail
     Finish- Hardcoat type III anodizing, with Cerakote ceramic coating (FDE)
Furniture
     Stock– Magpul STR Carbine Stock, FDE
     Grip– Miad Pistol Grip, FDE
Accessories
     Magpul MBUS Pro Sights
One 30 Rnd. Magazine