THE GUN ROOM
Rifles: Heckler & Koch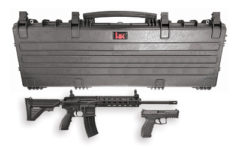 See full-sized image.
Status:
In Stock as of January 28, 2020
Category: Rifles
Brand: Heckler & Koch
Keywords: 556, 9mm, AR, heckler, Koch, MR556, MR556-A1, MR556A1, VP9
Manufacturer SKU: 8100459
Caliber: 556 and 9mm
Number of rounds: 30+1 and 15+1
Barrel length: 16.5"
Weight: 8.6 lbs.
Features: PLASE READ PACKAGE DESCRIPTION
Recommended Scope: Nightforce 1-8 or 2.5-10
Condition: New In Soft Case and Box
Price: $2,949 Credit, $2,890 Cash! IN STORE ONLY

Contact us about this product.
Unbelievable value package! For the price of the HK MR556A1 Rifle "The Best AR-15 Ever" you also get a HK VP9 Pistol "The better mousetrap – better Glock than a Glock" and a high quality Explorer case pre-cut for your rifle/pistol combo!
About the HK MR556A1: direct descendant of the HK416, the MR556A1 is a semi-automatic rifle configuration with match rifle capability developed for civilian users. The MR556A1 uses the HK proprietary gas piston operating system, employing piston and a solid operating "pusher" rod which virtually eliminates malfunctions common to direct impingement gas systems since hot carbon fouling and waste gases do not enter the receiver area. A precise enhanced two-stage trigger adds significantly to the accuracy of the MR556A1 and an extended latch charging handle makes operating the rifle with a telescopic sight easier. The retractable buttstock can be locked into a solid, non-moving position by tightening an Allen screw in the bottom of the stock. Special target rifle takedown pins ensure the upper and lower receivers are firmly mated for accurate performance. The MR566A1 is produced in the USA from both American and German-made components. The German-made, unchromed barrel is produced by HK's famous cold hammer forging process with the highest quality steel for a barrel that provides superior accuracy and long service life. This model is supplied with one 30-round magazine, a 9″ handguard, and Troy Microsights.
About the HK VP9 Pistol: the HK VP9 from Heckler & Koch is the 9mm version of the acclaimed VP pistol line. The VP9 breaks new ground with its new integration of the unique striker firing system with an enhanced HK light pull trigger. The result is a trigger quality unsurpassed by any production striker fired handgun. Using HK's ergonomic handgun grip design that includes three interchangeable backstraps, the VP9 fits all hand sizes. Police and security agencies will enjoy the ease-of-use they will find with the VP9.
Heckler & Koch is trusted by Law Enforcement and Military Forces all across the globe. A leading designer in small arms and light weapons, Heckler & Koch strives to be world's premier small arms system company.
Package Content:
HK MR556A1 (latest version) with 30 rd. HK Metal magazine (AR-15 standard)
HK VP9 with two 15 rd. magazines
Explorer hard case pre-cut for the package
Troy rifle sights and tool
Pistol case (if you want to store it separately)