THE GUN ROOM
Uppers, Lowers and Accessories: CMMG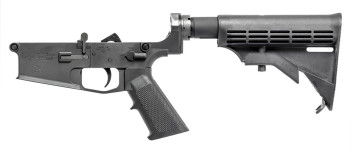 See full-sized image.
Status:
In Stock as of March 6, 2021
Category: Uppers, Lowers and Accessories
Brand: CMMG
Keywords: 308 Win, 7.62 NATO, CMMG, Complete, Lower
Manufacturer SKU: 38CA332
Caliber: 308 Win / 7.62 NATO
Features: 6 posision Stock.
Condition: New in Box!
Price: $469 Credit, $460 Cash. $30 Shipping by UPS

Contact us about this product.
A great platform for your 308/6.5 etc. major caliber build with the quality of CMMG!