THE GUN ROOM
Handguns: Les Baer Custom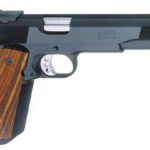 See full-sized image.
Status:
In Stock as of October 28, 2020
Category: Handguns
Brand: Les Baer Custom
Keywords: 9mm, Baer, Les, Les Baer, Ultimate, Ultimate Master Combat
Manufacturer SKU: LBP9603/6 (Manufacturer Link)
Caliber: 9 mm
Number of rounds: 8+1
Barrel length: 2"
Weight: 44 oz.
Features: Please Read Specs!
Condition: New in Box!
Price: $3,219 Free UPS 2nd Day Air Shipping!

Contact us about this product.
The top of the line Les Baer 1911 Ultimate Master Combat 6" Model  is a full house competition model that's built to go racing. It comes equipped with Les Baer 6″ slide, and it's guaranteed to shoot 3″ groups at fifty yards.
Features include:
Baer NM steel frame and NM slide with blued finish • Baer NM 6″ barrel and stainless steel bushing • Low-mount LBC adjustable sights with hidden rear leaf • Baer dovetailed front sight • Double serrated slide • Fitted slide to frame • Lowered and flared ejection port • Two-piece beveled mag well • High checkered front strap @ 30lpi • Checkering underneath trigger guard @ 30lpi • Serrated rear of slide @ 40lpi • Serrated top of slide • Baer deluxe Commander hammer and sear • Baer extended ambi safety • Tuned extractor • Baer extended ejector • Baer checkered slide stop • Baer beavertail grip safety with pad • Baer tactical mag catch • Baer speed trigger with crisp 3 1/2 lb action job • Polished feed ramp and barrel throat • Baer Premium Checkered grips • Tuned for total reliability • Blued finish • (2) 8-round premium mags. Caliber: 9mm w/supported chamber allowing for all range of 9mm loads including "hot" loads.
Next »