THE GUN ROOM
Handguns: Browning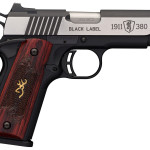 See full-sized image.
Status:
In Stock as of April 8, 2020
Category: Handguns
Brand: Browning
Keywords: 1911, 1911-380, 380 ACP, Black Label, Browning, compact, Medallion, Pro
Manufacturer SKU: 051-915492
Caliber: 380 ACP
Number of rounds: 8+1
Barrel length: 4.25"
Weight: 16 oz.
Features: Stainless Slide. Night Sights. Rosewood Grips w/ Gold Inlay.
Condition: New In Box!
Price: 749 Credit, 734 Cash! $30 Shipping by UPS Air

Contact us about this product.
THE DELUXE VERSION OF THE EXCELLENT 1911-380 FROM BROWNING! Probably one the most beautiful and functional 380s ever made. From Browning: "A little goes a long way. Too small and it s becomes too hard to shoot. Too big and you can't fit it where it needs to go. It has to be  just right. The 1911-380 is 85% of the size of the original 1911 45 ACP model. Its ideal for concealed carry duty, and for fitting a wider variety of shooters.The 1911-380 is the only authentically designed, full-featured 1911-style handgun currently available that is chambered in 380 ACP. Compact, for sure. But the 1911-380 is just a tiny bit larger than many micro 380s. Why?  You get greater shooting comfort because the grip is long enough for three fingers to fit below the trigger guard.The Browning 1911-380 combines two of John M. Browning's most lasting innovations – the Model 1911 and the 380 ACP cartridge – into a modern, lightweight pistol. Unlike most of the modern "pocket pistols" that chamber the snappy 380 ACP cartridge, the 1911-380 is slightly larger to better manage recoil for improved control that makes follow-up shots faster and more accurate. The longer barrel increases bullet velocity for more downrange punch and improved acccuracy. The grip is compact, yet is long and wide enough to allow the shooting hand full purchase for added shooting comfort"
The 1911-380 Black Label Medallion Pro Compact has rosewood grips with gold Buckmark inlay. The slide has a blackened stainless steel finish with silver brushed polished flats, and steel night sights. The composite frame has a matte black finish with machined 7075 aluminum subframe and ergonomic and skeletonized controls. Included is ABS carry case and two 8-round magazines!