THE GUN ROOM
Handguns: Browning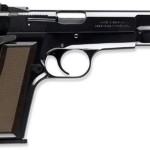 See full-sized image.
Status:
In Stock as of February 21, 2018
Category: Handguns
Brand: Browning
Keywords: 9mm, Browning, Hi Power
Manufacturer SKU: 051004493
Caliber: 9mm
Number of rounds: 13+1
Barrel length: 4.6"
Weight: 32 oz.
Features: Single Action. Adjustable Sight. Select Walnut Grip. 2 Mags
Condition: New in Box!
Price: $989 credit, $969 cash!

Contact us about this product.
Own a classic! Few people know that the Browning Hi Power was John Browning favorite design; improving on his famous Colt 1911. The sidearm of the military in most western countries for more that 70 years and imitated by most other manufacturers. Hi Power pistols are forged from solid steel, yet still lightweight. The heft keeps recoil light and manageable for accurate firing, even at a rapid rate, and the balance in the hand is impeccable. Most gun experts coincide in that this is one of the most natural pointing handguns ever made. This Hi Power has a 4-5/8″ barrel and adjustable sights with a ramped front post and two 13-round double stack magazines. The Hi Power has a locked breech action, large, ambidextrous manual thumb safety and a light single action trigger. The steel frame, barrel, receiver and slide all feature a polished blued finish set off by grips made of select walnut with cut checkering.