THE GUN ROOM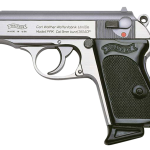 See full-sized image.
Back in Stock! Walther PPK Semi-automatic Pistol 380ACP 3.3 in – Stainless Steel – Fixed Sights, 6Rd – 2 Magazines
Status:
In Stock as of December 2, 2021
Category: Handguns
Brand: Walther
Keywords: 380, 380 ACP, PPK, Walther
Manufacturer SKU: 4796001
Caliber: 380 ACP
Number of rounds: 6+1
Barrel length: 3.3"
Weight: 19 oz.
Features: Stainless Steel
Condition: New In Box!
Price: $829 credit, $812 cash! $30 Shipping by UPS Air.

Contact us about this product.
BACK IN STOCK! Sometimes you can not make guns any better. A collectable but fully practical classic! The Walther PPK is a great choice when looking for a concealed carry firearm that with hold its value over the years. This pistol features a double/single action, along with a stainless finish. Chambered in.380 ACP, the PPK provides all the power needed in a self-defense pistol without sacrificing on critical functionalities. It features a double-action/single-action trigger that decocks when rotating the safety down into the safe position and comes with two 6 round magazines.
PLEASE CLICK PICTURE FOR MORE RESOLUTION!