THE GUN ROOM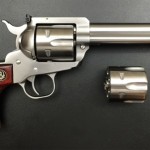 See full-sized image.
Back in Stock! Ruger 5247 RUGER BLACKHAWK FLATTOP 357 Magnum and 9mm Cylinders 5 1/2″ Stainless Steel – Mid Size Frame – Wood Grips
Status:
In Stock as of May 30, 2020
Category: Handguns
Brand: Ruger
Keywords: 357Mag, 9mm, Blackhawk, Revolver, Ruger
Manufacturer SKU: 5247
Caliber: 357 Mag and 9mm
Number of rounds: 6
Barrel length: 5.5"
Weight: 44 oz.
Features: 2 Cylinders. Stainless Steel. Mid Frame.
Condition: New In Box!
Price: $729 Credit, $714 Cash $30 Shipping by UPS Air

Contact us about this product.
BACK IN STOCK – ONE UNIT! This special edition RUGER BLACKHAWK FLATTOP Convertible model comes equipped with an extra cylinder and is popular with shooters who appreciate the classic single-action revolver but opt for the versatility of being able to use more than one caliber in their handgun. With its interchangeable cylinder this revolver can be easily converted from 357 Magnum/38 Special to 9mm Luger (9mm NATO) without the use of tools. This versatility allows avid shooters of autoloading pistols to enjoy shooting a classic American single-action sidearm with their favorite pistol cartridge. All stainless steel with beautiful wood grips.