THE GUN ROOM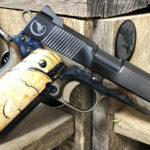 See full-sized image.
Back in Stock! Nighthawk Custom VIP Turnbull 1 45 ACP
Status:
In Stock as of July 21, 2019
Category: Handguns
Brand: Nighthawk Custom - Korth
Keywords: 45 ACP, Custom, Nighthawk, Turnbull, VIP, VIP 1, VIP Turnbull 1
Manufacturer SKU: NHK VIP Turnbull 1 (Manufacturer Link)
Caliber: 45 ACP
Number of rounds: 8+1
Barrel length: 5"
Weight: 37.4 oz.
Features: Too many! Please see pictures and description!
Condition: New in Luxury Display Case
Price: $7,495 Free Shipping by UPS Air

Contact us about this product.
A new unit of the most beautiful handgun we ever had in The Scopesmith! The Nighthawk VIP Turnbull 1, or Very Impressive Pistol, is just that, impressive. The Turnbull VIP models are the first additions to Nighthawk VIP Collectors Line. As one of Nighthawk most exclusive models, the VIP is built as a true heirloom piece that is the result of a collaboration between Nighthawk Custom and Doug Turnbull. Because of the time and skill that that is required to give this unique appearance, these guns are very limited in availability. This pistol is crafted with all of the finest customizations, including a classic case hardened and polished frame. The high polished, charcoal blued slide, matches the slide stop, magazine release, and thumb safety. To top it all off, NIghthawk added a 14k solid gold bead front sight, mammoth ivory grips, and a custom case. Every pistol will vary slightly in appearance because each case hardened frame and set of mammoth ivory grips is unique. For years, firearms customers have loved Turnbull Finishes. Because of the relationship between Mark Stone of Nighthawk and Doug Turnbull, and the respect both men have for the product each company produces, they have created a partnership that has resulted in the finest 1911 pistols on the market.
FEATURES:
Custom display box
Finish-frame: high polished and Turnbull case hardened
Finish-slide and controls: high polished and Turnbull charcoal blued
Forged government size frame and 5″ barrel
Match grade .45 ACP barrel
Cross-cut mammoth ivory grips
One-piece magwell/mainspring housing
Heavy bevel on the bottom of the slide
Ball cut radius on the slide
Five vertical lines on the front strap and mainspring housing
Rear cocking serrations
Solid 14K gold bead front sight
Solid black Heinie Slant Pro rear sight
40 lines per inch serrated rear of slide to match rear sight
Crowned barrel flush with bushing
Lightweight medium solid aluminum Nighthawk Custom trigger
Smooth recoil spring plug with thick barrel bushing
Completely dehorned for comfortable carry
New ultra hi-cut front strap
PLEASE CLICK PICTURES FOR MORE RESOLUTION!