THE GUN ROOM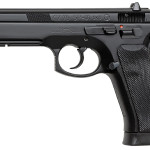 See full-sized image.
Back in Stock! CZ 91152 CZ-75 SP-01 DA/SA 9mm 4.7″ 18+1 with Rail and Night Sights – Rubber Grip Black Finish
Status:
In Stock as of May 21, 2019
Category: Handguns
Brand: CZ - Dan Wesson
Keywords: 75, 9mm, CZ, CZ-75, CZ75, SP-01
Manufacturer SKU: 91152
Caliber: 9 mm
Number of rounds: 18+1
Barrel length: 4.7"
Weight: 43.2 lbs.
Features: Double/single Action without Decocker. Night Sights. Rail.
Condition: New In Box!
Price: $629 Credit, $616 Cash! $30 Shipping by UPS

Contact us about this product.
The CZ 75 SP-01 is the first full size handgun (4.72  bbl) from CZ to feature the improved manufacturing technology and ergonomics of the NATO-approved CZ 75 Compact P-01 model. Featuring an integral 1913 accessory rail on the dust cover, rubber grip panels, and CZ s corrosion resistant black polycoat finish.  The SP-01 utilizes an extended beavertail to protect the shooter's strong hand as well as allowing for a deeper and more secure grip. The grip geometry, checkering in key areas on the front and back straps, and redistribution of mass provided by the accessory rail noticeably decrease the perceived recoil from previous models and allows for more rapid target acquisition and transition. Thanks to its exceptional accuracy and superior handling characteristics, the CZ 75 SP-01 has also found supporters in the field of sport and target shooting.
From The Scopesmith: the CZ-75 is the best kept secret on handguns. An evolution of the legendary Browning Hi Power with the same "feel" in the hand but with modern features: double action/single action with ambi decocker, a great trigger, tactical rail,  night sights and IS ALL METAL!