THE GUN ROOM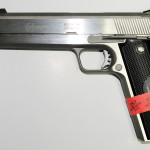 See full-sized image.
COONAN Classic 357 Stainless Steel – Adjustable Night Sight – Compensated Barrel – Both Aluminum Grip Set Black Checkered with Laser Etched Logo and Wood Laser Engraved grips – 2 Magazines
Status:
In Stock as of March 26, 2019
Category: Handguns
Brand: COONAN
Keywords: 357 Mag, Compensated, Coonan, Pistol
Manufacturer SKU: CI-100000-031 (Manufacturer Link)
Caliber: 357 Magnum
Number of rounds: 10+1
Barrel length: 5"
Weight: 47.5 oz.
Features: All Stainless Steel. Night Sight. Compensator 2 Set of Grips
Condition: New in Coonan Soft Case!
Price: $2,009. Free UPS 2nd Day Air Shipping!

Contact us about this product.
The Coonan 1911 .357 Magnum Automatic
Evolved from a classic 1911 pistol by legendary gun designer Dan Coonan, the self-loading Coonan .357 Magnum Automatic delivers the most impressive firepower the industry has to offer. Crafted from stainless steel, the Coonan .357 Magnum Automatic is manufactured to exact, close tolerance specifications for supreme accuracy, reliability and shooting comfort. It combines a crisp four pound trigger pull, low-profile sights and palm-filling grips that will help you deliver explosive firepower that can't be explained using words or pictures alone. Everyone who shoots it agrees – you've never shot anything like a Coonan and you won't understand it until you do.
This model is the top of the line of the Coonan family!
Features
•.357 Magnum
•Linkless Barrel
•Recoil Operated
•Pivoting Trigger
•Extended Slide Catch and Thumb Lock for One-Hand Operation
Includes
•Compensated Barrel
•Upgraded Adjustable Night Sights
•2 Magazines
•Two sets of grips: Coonan Compact Aluminum Grip Set Black Checkered with Laser Etched Logo (in gun) and Smooth Walnut with Coonan Logo
•Custom Carry Case
•Lock
•Owner's Manual